'90210' Star Jessica Lowndes Releases Provocative Video For Debut Single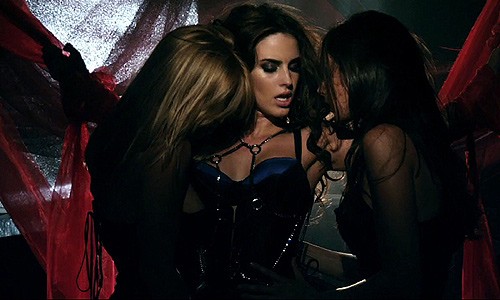 Sexy 90210 star Jessica Lowndes steams up screens in the provocative new video for her debut single, "I Wish I Was Gay."

"This is my first solo music video and I am excited to debut it!" Jessica says. "The video is about a girl who finds out her boyfriend has been cheating on her and she's not going to let him get away with it. I love this song because everybody knows what it's like to have their heartbroken."

The new song is reminiscent of Katy Perry's "I Kissed A Girl," one of two artists Jessica compared herself to back in an April issue of Us Magazine.

"I've been writing music since I was 9 and playing piano since I was 5, so I can't wait for my album to come out," she said. "I feel like I've had this little secret I've been hiding from people!"

Jessica, who plays Adrianna on 90210, takes her revenge out on her cheating boyfriend in the video in strange ways, many of them involving the singer/actress scantily clad in lingerie and burlesque outfits - which comes as no surprise - back in April she told British men's magazine FHM that she's "addicted" to it.

"I have a lingerie addiction... I have three drawers full of lingerie at home and I have already been lingerie shopping in London even though I should be going out and buying more practical clothes. I just can't help myself; it makes me feel pretty and sexy."

Check out Jessica's video below...