'90210' Star Jessica Lowndes Enjoys A Night Out In Las Vegas (Pics)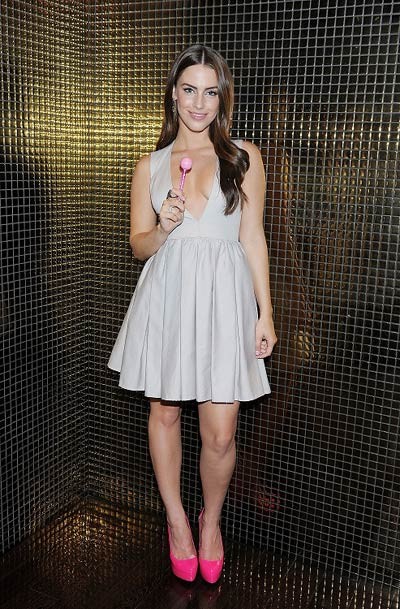 90210 star Jessica Lowndes spent Saturday evening at Gallery Nightclub inside Planet Hollywood, the most alluring nightlife destination in Las Vegas. As Lowndes entered the hot spot, everyone's jaws were agape, in awe of the actress' stunning beauty. As sweet as she is beautiful, Lowndes smiled and waved at her fans as she strutted into her ultra-exclusive VIP booth, dressed up in hot pink platform pumps and a Contrarian dress.

The starlet danced with her friends while sipping on Grey Goose and Patrón cocktails and was overheard thanking everyone again and again for her amazing autumn night in Sin City.

Gallery is a place where all the deepest fantasies can be explored from 10 p.m. until 4 a.m. Wednesday, Thursday, Friday and Saturday. For more information call 702-818-3700, or visit www.GalleryLV.com. Follow Gallery on Twitter @GalleryClubLV, or become a Facebook fan at facebook.gallerylv.com.
Before hitting the club, Jessica indulged in a savory dinner of pacific salmon, macaroni and cheese pops, bruschetta and fettuccini alfredo. For dessert, she enjoyed a colossal strawberry cheesecake ice cream sundae covered in whipped cream and hot fudge.

The "90210" star headed over to the Sugar Factory retail store afterward to stock-up on her favorite confections

Sugar Factory American Brasserie is an American take on a traditional French brasserie, serving delicious cuisine all day, and all night, along with an oversized retail store and signature Chocolate Lounge. Other Sugar Factory retail stores are located at The Mirage and Miracle Mile Shops at Planet Hollywood.