'90210' Season Finale: 'One Party Can Ruin Your Whole Summer'

The season finale of
90210
ended on a cliffhanger that would surprise even the most regular viewer. Last week, Principal Harry shut down the first after prom party when he announced the sophomore prom king and queen. Adrianna went into labor and Liam and Naomi's relationship finally seemed to be moving forward. In tonight's episode Naomi decided to have the after prom party at her house and reminded Jen that she'd be having it there because she paid the bills.
Annie volunteered to go take care of Naomi's house while Naomi went to the hospital.
As for Adrianna's baby, she had to have an emergency c-section and refused to see the baby afterwards. In the waiting room, Annie's parents got high from the pot brownies someone had brought to school's after-prom party. Kelly tried to help them out by providing them with snacks and reminding them they couldn't try and go find their kids stoned. Adrianna had a visit from a dream version of Brenda that convinced her she needed to say goodbye to her daughter. Adrianna woke up and held her little girl for the first time. Ade's baby daddy Ty thanked Navid for being there for Adrianna. Brenda showed up for real and told Adrianna how great adoption was and admitted she'd been in China adopting her own little girl. A teary Adrianna gave her little girl over to her adoptive parents and they named her Daisy.
At the party, Annie briefly let to take a drunk girl home while Jen borrowed Annie's wrap. Ethan kept pretending not to like Silver but Dixon found a picture of her in Ethan's pocket. Dixon forced Ethan to admit he liked Silver to Dixon and Silver and Ethan left. Silver went after Ethan and he asked her why she came after him instead of staying with her boyfriend. Ethan continued to be the worst friend ever and they shared a kiss before she started crying.
Still pissed at Naomi, Jen pretended to be Naomi's neighbor and told Liam that Naomi had told everyone about his family. Naomi showed up just as Liam was getting dressed from a hookup and found Annie's wrap on the floor. Jen waited until Naomi left and then admitted to Liam she was Naomi's sister. At least Liam had enough decency to be upset, but not enough to find Naomi and tell her the truth right away. Liam tried to call and tell Naomi the truth but two guys dragged him to some kind of boot camp before he could finish the message.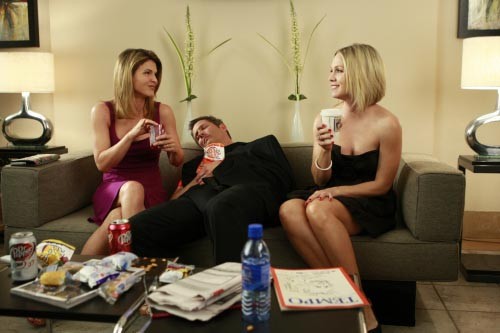 Image © CW
Naomi found Annie and called her a slut in front of the entire party. The rest of the party quickly turned on Annie and some guy threw a drink in her face. Annie stormed outside where she called the police on the party and snatched a bottle of vodka. Naomi cried and her sister pretended to comfort her. Driving on some road, Annie hit something and kept driving when she saw a car pulling up behind her. The car behind her stopped at the person-shaped lump on the road and the screen went black. It's been confirmed that a least one regular cast member won't be coming back for season two, but the identity of the person Annie potentially killed will have to wait until next season.
90210 Stars:
Jessica Stroup
/
Ryan Eggold
/
Annalynne McCord
/
Jennie Garth
/
Rob Estes
/
Lori Loughlin
/
Dustin Milligan
/
Tristan Wilds
/
Shenae Grimes
/
more
Click here to follow @Starpulse on Twitter!
Story by
Lauren Attaway
Starpulse contributing writer