'90210' Recap: 'Zero Tolerance'

At times it seems as if
90210
goes between being just a bad show and a really bad show. The sophomores were given a prom, which was really just an excuse for our main characters to be in one place for the majority of the episode. The prom-themed episode last night seemed to suffer from trying to balance too many storylines in one episode. The episode could have benefited from being called too many love triangles because that's exactly what 90210's biggest problem is. Every relationship has problems because of a third party love interest on this show.
In the Annie/Liam/Naomi love triangle, Annie helped her father with a video about zero tolerance for prom parties and spent the rest of the episode trying to live it down. Annie also continued to try and tell Naomi what a bad guy she thought Liam was. Liam proved that he's smarter than the average high school boy by using Annie's fear of being a bad girl to get her to hurt a theater dork unintentionally.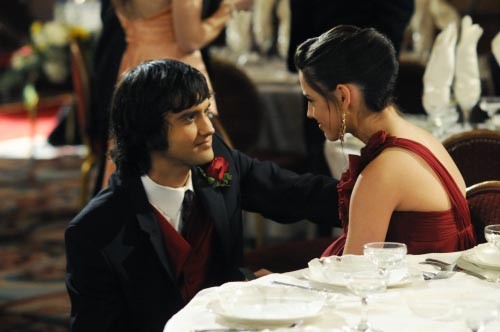 Image © The CW 2009 The CW Network, LLC. All Rights Reserved.
Naomi found out her sister Jen was spending her money and was upset that she had lied about her financial situation. Imagine how upset she'll be when Jen reveals the complete truth. To show his stepfather he was making an effort, Liam asked Naomi to prom. Naomi was thrilled because she thought he just wanted to go, until he ignored her at the dance. Even after she found out why he really asked her to the prom, all was forgiven because he explained everything to her.
Dixon, Silver and Ethan all went to prom together, which wouldn't have been as weird if Ethan had brought a date. Adrianna, Navid, and Annie plus one were also in the same limo. Silver got a spray tan, fake nails and even wore a princess dress because she wanted to fit in. Dixon was named prom king and got Silver named prom queen as a write in. Silver finally remembered who she was and gave a speech about hating prom and conformity. She hurt Dixon's feelings in the process, but inspired Ethan not to go to Lacrosse camp. Silver may be coming back to their school and she's likely to be trading one jock boyfriend for another soon.
Kelly used to be Jen' guidance counselor and she revealed that Jen cheated her way to valedictorian. Jen asked Kelly what Ryan liked in bed because she figured out they had slept together. Kelly tried to warn Ryan about Jen but he assumed she was jealous.
Adrianna and Navid saw Ty at prom with another girl, and the boys eventually got into a fight. Unsurprisingly, Adrianna's water broke, and the episode was over.
90210 Stars:
Jessica Stroup
/
Ryan Eggold
/
Annalynne McCord
/
Jennie Garth
/
Rob Estes
/
Lori Loughlin
/
Dustin Milligan
/
Tristan Wilds
/
Shenae Grimes
/
more
Story by
Lauren Attaway
Starpulse contributing writer