90210 Recap: 'To New Beginnings'

The season premiere of
90210
looked like an entirely different show, right down to its slow motion shots of new best friends Naomi, Silver and Adrianna strutting around in their bikinis. The show looks ready to start letting characters make mistakes without instant lectures on their wrongdoing. With the grownups stepping to the background, the rivalry between Annie and Naomi is still at the forefront. After Annie called the police and sent most of her friends and her brother to summer school, she spent her summer alone trying to find out more details about her hit and run victim. Now that summer school is over, everyone minus Annie is excited to about a party at the Beverly Hills Beach Club.
Not that this party means all of their problems are going anywhere. Navid tried to set up a romantic night for him and Adrianna, but her ex-boyfriend Teddy's arrival put an end to any chance of Navid losing his virginity. As for the new guy, it would have been less ridiculous to make him someone's college friend than a fellow West Beverly student. Silver and Dixon spent the summer apart while Silver received secret text messages from Ethan. Just when Silver and Dixon reunited, Teddy let Dixon in on Silver's messages and the two split all over again.
Life doesn't appear like it will be getting any easier for Annie soon. The guy she hit on prom night died. After Dixon left her stranded at the party, she got drunk with some guy named Mark. They ended up in a cabana, and Mark managed to get a naked picture of Annie to take back to school. As if that wasn't bad enough, it turned out that Teddy's car was the car that pulled up behind Annie when she ran that guy over. It's not clear whether Teddy was driving, but that mystery is far from being solved.
Naomi spent her summer with a guy that turned out to be married with kids. When that didn't pan out, she went after Adrianna's ex Teddy, who seemed to be more interested in breaking up all of the couples then any particular girl. Back at school, she admitted to her new best friends Silver and Adrianna that she was only desperate for a guy because she needed to forget Liam. Liam showed up and Naomi left before talking to him.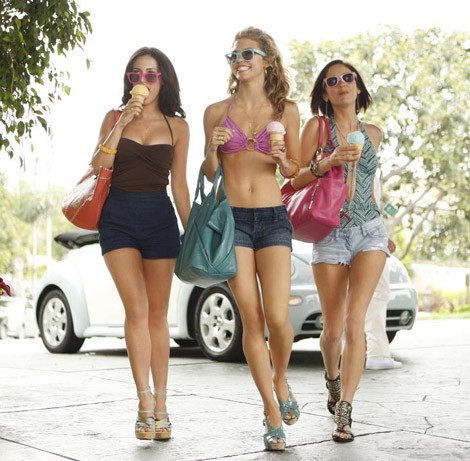 Image © The CW
Naomi ran into Mark and his friends looking at Annie's picture and snatched Mark's cell phone so she could send herself the picture. Annie's hit-and-run storyline may be safe, but no way will Naomi let another opportunity to humiliate Annie pass. Naomi reunited with her new Mean Girls clique and assured them this was going to be their year. Poor Annie. Next week, Naomi's back to school Annie text hits the West Beverly halls.
Episode Grade:
B
Bookmark our '90210' News page & check back for regular episode recaps & news!
90210 Stars:
Jessica Stroup
/
Ryan Eggold
/
Annalynne McCord
/
Jennie Garth
/
Rob Estes
/
Lori Loughlin
/
Dustin Milligan
/
Tristan Wilds
/
Shenae Grimes
/
more
Story by
Lauren Attaway
Starpulse contributing writer