'90210' Recap: There's No Place Like Homecoming

It was homecoming this week on
90210
. Homecoming episodes are usually so fun to watch because TV is full of teenagers pretending that they're too jaded by this world to enjoy something as simple as the homecoming dance. Dixon is that rare teenage boy who actually will admit to wanting to go. Unfortunately for him, he's dating Silver the anti-everything girl. In fact, Silver hates homecoming so much that she schedules to get her wisdom teeth out the morning before. After Dixon takes care of Silver all day, she gets a call from Annie that guilts her into going to the dance with him.
As for Annie, she's trying to be friends with Naomi and still flirt with Naomi's ex. When Ethan tells Annie he can't take her to homecoming because of Naomi but he wants them to meet up, it's only a matter of time before Annie gets invited to go with Naomi and her followers. Ethan's bothered by the idea of the girls really becoming friends, but Annie's too positive to see why this won't work.
Not only does Adrianna get to live, she gets to go to celebrity rehab. Naomi gets detention all year for lying about the drugs, which is a lot nicer than community service. She meets a boy named Ozzie in detention and the love triangle now becomes a square. Naomi and Ozzie bicker with the efforts of people who will eventually date.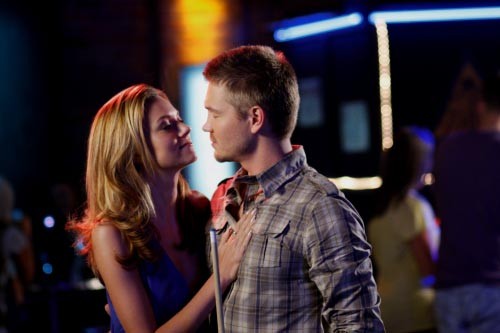 Adrianna gets regular visits at rehab from Navid. He pretends to be doing a story about her, but eventually drops that angle. He brings her the guy's version of a care package- DVDs with toner picked out by his mom. Instead of thanking him, she tries to guilt trip him into bringing Naomi to see her and it works. He tries to get Naomi to visit Adrianna but Naomi refuses.
Annie and Dixon's parents agree to chaperone the dance. It's all just an excuse for the ladies to have a conversation in which his wife threatens to knock his ex's teeth out.
Teacher Ryan catches the undercover cop Kimberly buying drugs and he learns she's a cop. He asks her how old she is (twenty-five) and then kisses her.
Elsewhere at the dance, all the separate storylines began intersecting. Naomi sees Annie and Ethan dancing and grabs the nearest boy Ozzie so she can torture herself from a closer distance. Adrianna shows up at the dance and Naomi says their friendship is too hard. Annie and Naomi talk, and Naomi finally spells it out for Annie that she cannot be friends with her ex's new girlfriend.
After talking to Naomi, Adrianna tries to buy drugs and Navid takes a hit to the face in trying to stop her. He admits how much he likes her and she realizes he got his dad to pay for her to go to rehab. Naomi shows up and the girls are friends again.
Everyone's feeling the homecoming warm and fuzziness at this point as Annie and Ethan share their first kiss, Dixon and Silver kiss and dance, and Teacher Ryan and Cop Kim are free to kiss now. Navid and Naomi take Adrianna back to rehab and it's back to Annie and Ethan still kissing in the parking lot.
90210 Stars:
Jessica Stroup
/
Ryan Eggold
/
Annalynne McCord
/
Jennie Garth
/
Rob Estes
/
Lori Loughlin
/
Dustin Milligan
/
Tristan Wilds
/
Shenae Grimes
/
more
Story by
Lauren Attaway
Starpulse contributing writer