'90210' Recap: 'The Party's Over'

This week, Navid and Adrianna finally come clean to their friends about their plans to raise Adrianna's baby and get married. Their friends are less than thrilled, but Navid and Adrianna refuse to acknowledge getting married is something they're not ready for yet. Jen crashes Naomi's lunch with her dad and demands he give Naomi the first installment of her trust fund. Naomi and Annie volunteer to hold a baby shower for Adrianna with Naomi offering up Annie's house.
Going back to Jen, her whole stealing from the trust fund storyline is reminiscent of every time that someone tried to take money from Dylan's trust in the original 90210. When she admits to Teacher Ryan she burned through her trust fund, its no surprise. It's just surprising that Naomi trusts Jen enough to pay for the house.
Silver still refuses to deal with the effects of her film and go to prom with Dixon. So when Liam gets Navid's bachelor party into a burlesque show with fake IDs, Dixon gets drunk and provides Liam and Annie a chance to talk and Silver and Ethan a chance to talk. Those two un-couples have seemed to spend a lot of time together recently, which will most likely mean a hookup. Dixon and Naomi won't exactly be thrilled with the new couplings.
Things aren't looking good for the couple that's supposed to be getting married, either. Adrianna's baby shower turns into a disaster once she decides to end her sobriety by taking pills from the medicine cabinet. At least it's after Navid's mom tells her how much they're not ready for this, and she throws up the pills after she takes them. She comes clean with Navid, and he admits the sorority girl he met at his bachelor party made him value their relationship. The two finally recognize that they're not ready to be engaged.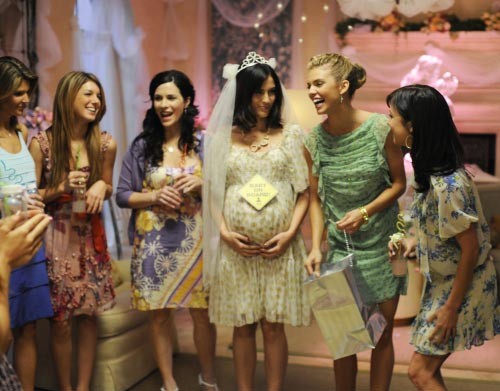 Next week, the couples and non-couples head off to prom, and here's hoping Silver and Dixon finally start to work through their issues, although it really just looks like Adrianna's going into to labor and the Ryan/Jen/Kelly triangle is heating up.
90210 Stars:
Jessica Stroup
/
Ryan Eggold
/
Annalynne McCord
/
Jennie Garth
/
Rob Estes
/
Lori Loughlin
/
Dustin Milligan
/
Tristan Wilds
/
Shenae Grimes
/
more
Story by
Lauren Attaway
Starpulse contributing writer