'90210' Recap: 'The Dionysian Debacle'

First up for tonight's episode of
90210
, Navid and Adrianna made plans to tell Navid's parents about her pregnancy and their engagement. He expected his mother would cry and his father would yell, but they'd eventually come around to offering their support. Adrianna pointed out that it might go a little differently when they discovered this wasn't Navid's baby she was having, but Navid continued to say they would be fine with it.
Still staying with Annie's family, Naomi was excited for her first official date with Liam until he cancelled. Before Naomi could completely overreact, Annie suggested that she just ask Liam why he kept canceling.
Silver started at her new Catholic school, but not before telling Dixon she needed a fresh start. He got mad because he didn't know when they'd have time for each other and she reminded him to be supportive. At Silver's new school, she was a little overwhelmed at how devoted the other students were to their fait.
Adrianna told Naomi that she was engaged and keeping the baby and Naomi treated her like she'd lost her mind. Naomi wondered out loud why Navid could be so okay with raising Ty's baby and realized he didn't know. Naomi told Adrianna she needed to tell Ty.
Naomi continued making herself at home with the Wilson family, which included criticizing the food and over sharing about her gyno appointment. She grossed out Dixon to the point he turned down dinner, which is saying a lot. After she got back to the house, Naomi bought Annie a dress and shoes and announced they had a double date with Liam and his cousin.
Dixon went to pick silver up from her first day and she freaked out, which turned out to be deserved when a girl named Angela saw them.
Navid and Adrianna told his parents and they reacted just like he'd predicted. Just when they were calming down, he told them the baby wasn't his and they freaked out all over again.
Annie and Naomi went out on the double date, with Annie stuck with a guy named Brew Dog at a pool hall with two dollar beers. Liam acted like a jerk until Annie called him out on it. Liam started to behave and when the date ended he apologized to Annie and asked her to go to dinner with him.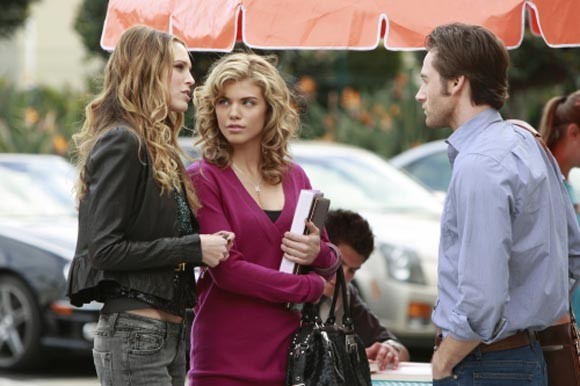 Navid's parents were okay with him continuing to date her, but they refused to support his marrying her. It seemed fair, but Navid's expression showed he was headed for a meltdown.
Naomi was happy Liam seemed to be coming around, until Annie told Naomi that Liam asked her out and Naomi thanked her for telling her. Naomi then proved she wasn't completely okay with it and kicked Annie out of her own bed. Annie went downstairs and learned her parents and Dixon are all ready for Naomi to find somewhere else to stay.
Naomi asked Liam about him asking Annie out. He told her he was a jerk, basically, and she said it's ok because she has a thing for jerks.
Silver's new friend Angela recognized her as "the whore from the video." Angela told Silver she was going to fast until Silver told everyone about her checkered past.
Silver blamed Dixon for Angela finding out and he reminded her that he was in the video too but he didn't get the chance to run away from it.
Navid came over to Adrianna's with his bags and told Adrianna he chose her over his parents. He got down on his knees and proposed again. Adrianna felt guilty enough to tell him it was Ty's baby. Navid then stormed in and out of Adrianna's room a few times until he got the whole story out of her. It seemed like he'd left for good the last time but he returned and put his ring back on her finger. He told her not to lie to him ever again and they exchanged I love yous again.
Naomi and Annie got home from school and Naomi explained her theory that Liam was just afraid of commitment. Annie suggested he might really be a jerk, but Naomi didn't want to hear it. Naomi's sister Jen was waiting for them in Annie's room. Jen took Naomi off the ecstatic Wilson's hands, and Naomi revealed she'd called her after hearing the family complain the night before.
Adrianna's mom agreed to let Navid stay with them as long as he got a job, and the couple continued making plans for their new family. Navid kept insisting he's fine with being on his own.
Elsewhere, Silver had a nightmare where Angela dropped dead and the class then yelled at Silver "She died for your sins." Silver emailed the entire school about the video. After she realized Angela does this fasting blackmail to everyone, Silver told Angela she felt like she was in hell.
Jen dropped Naomi off at school, and Naomi introduced Jen to teacher Ryan, probably trying to get an A in English. Regardless, Jen and Ryan had a moment. Jen was leaving school when she saw a nervous Ethan. Jen told him not to worry and promised she wouldn't tell Naomi that she was actually Ethan's first.
On the next episode, it looks like more Naomi-Liam-Annie tension, just in time for Adrianna's baby/bridal shower.
90210 Stars:
Jessica Stroup
/
Ryan Eggold
/
Annalynne McCord
/
Jennie Garth
/
Rob Estes
/
Lori Loughlin
/
Dustin Milligan
/
Tristan Wilds
/
Shenae Grimes
/
more
Story by
Lauren Attaway
Starpulse contributing writer