'90210' Recap: Sit Down, You're Rocking The Boat

Episode three of
90210
set the pace for new hookups and ended old relationships. Silver and Dixon are finally over, and both of them seem to be aware of it. Adrianna and Teddy are going to hook up and even Navid might not be that surprised. The episode also brought the end of the Annie and Silver friendship, or so it appeared to. Episode three reminded us that teenage girls are horrible to each other at times, and teenagers in general spend more time talking about exaggerated encounters with the opposite sex then they do with the opposite sex.
Annie finally decided to stop letting Naomi run all over her, but not before trying to clear her name. Annie invited Mark to Teddy's yacht party. Mark was the same guy who took the topless picture that Naomi sent to the entire school. At the party, Annie made Mark tell Silver in front of Naomi that Naomi stole his phone and sent the picture. Instead of Annie getting her best friend back, Silver stopped speaking to both of them.
As if that wasn't bad enough, Annie found Liam and gave him some line about needing to tell Naomi the truth. Instead, Annie told Naomi that she and Liam hooked up the entire time they were together. She also mentioned how everyone that loves Naomi ends up loving Annie more. Silver heard this and Annie lost her as a friend again when she took Naomi's side.
On the boat, Navid tried to get along with Teddy, but his suspicions were proved valid when Teddy and Adrianna almost kissed. Dixon met a DJ named Sasha and managed to convince her he was older, even after she ran into him, his best friend and his ex girlfriend on the yacht where she was working as a DJ. Silver and Navid both played along with his lie about being a music executive, but it's Dixon himself who is probably going to blow the story.
Earlier in the episode, Dixon told his dad the truth about why he punched Mark. Henry and Debbie fought about how to handle the situation. Henry talked to Kelly, who shared the same opinion as Debbie, but it took Kelly saying Annie had been punished enough for him to hear it. Naturally, that didn't go over well with his wife.
On the mysterious side of things, Teddy confessed to Navid that he was involved in a scandal with two girls while he was away, but that doesn't really have much to do with what happened to the guy Annie ran over. It's good that Teddy's getting his own dark background outside of the hit and run incident. Liam was upset about being used by Annie, so he ended the episode by staring at some sort of blueprints. I'm not sure what this has to do with getting his version of the truth out there, but I'm sure we won't have to wait long to find out.
This episode worked really well, from the boat party to the scheming and even the bonding. Like real teens, the girls and the guys spent most of their time talking to their friends about their recent encounters with the opposite sex. The guys continued bonding, and the Silver and Naomi friendship withstood Annie's attempts to sabotage it. Next Week, it looks like Teddy and Adrianna are having the kind of dinner where it's okay for him to show of his abs. Also, it seems like Dixon and Sasha go away for the weekend, but manage to hook up before his lying streak ends.
Episode Grade: A-
90210 Stars:
Jessica Stroup
/
Ryan Eggold
/
Annalynne McCord
/
Jennie Garth
/
Rob Estes
/
Lori Loughlin
/
Dustin Milligan
/
Tristan Wilds
/
Shenae Grimes
/
more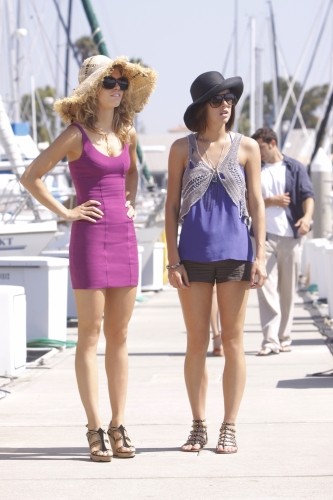 Image © The CW Network, LLC. All Rights Reserved.
Story by
Lauren Attaway
Starpulse contributing writer