'90210' Recap: 'Model Behavior'

This week on
90210
, I was expecting to be treated to a catfight between someone. The previews looked like it would be a tossup between Brenda vs. Kelly or Adrianna vs. Annie. Unfortunately, this show has the ability to make previews that are just so much better than the final product.
A carefully placed fashion show put all of the kids and most of their parents at the same place on the same night. Adrianna the has-been child actress tried to make nice with Annie and behave, but the two girls were back to being enemies by the episode's end. Ethan and Naomi finally broke up when he refused to say I love you. She realized she was tired of trying to get her parents together and holding onto her own pathetic relationship. When they learned the truth about Adrianna's scheming, Annie and Ty decided to be friends. Navid managed to get several models' attention and lose their interest in one night. Dixon and Silver proved again that they deserve more screen time. They finally became a couple and he beat up a sleazy model agent who insulted her.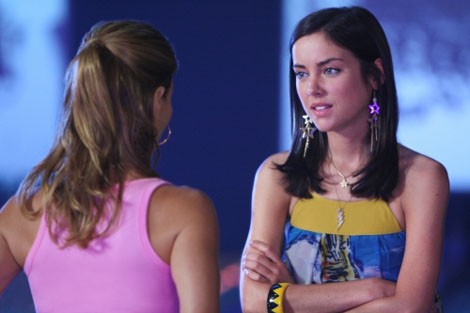 I was so excited by Dylan's call that I didn't even mind that he never made an appearance, because he called Brenda before Kelly. Brenda and Kelly cheated us out of an argument by deciding to be grown ups. After Kelly dumped Ryan, he made a good point-if Dylan really wanted to call Kelly, why did he call Brenda's phone? When Ryan and Brenda made plans to monitor Adrianna at the fashion show, Kelly's jealousy went through the roof. Brenda never got as upset by the whole Dylan/Ryan conversation as Kelly did, which is probably what ruined the whole moment. It's just no fun to argue with someone who won't argue back. After Kelly apologized Brenda deleted Dylan's number from her cell phone. It seemed like the good friend thing to do, until she turned around and let Ryan drive her home. In the end, Kelly took two weeks off from her counselor's job and took her son Sammy to see Dylan.
There were a few highlights, like when the super-skinny Silver complained about the negative images that models promote. Dixon got reasonably angry and into a fight when an agent started making the racist baby momma and Compton jokes. It felt real, because while he could have walked away, the kid is only in high school. Another moment that was borderline realistic was when Naomi snuck some of her dad's wine after checking really hard to make sure no one was looking. Naomi kept bringing on the realism, too, when she tried to get Ethan to talk about his feelings while they were making out. Still, the episode ended with Adrianna getting a little white baggie from her drug dealer's boss, reminding us that this was a nighttime soap after all.
What did you think of this week's episode? Leave a comment below!
Stay tuned to Starpulse.com for weekly 90210 recaps!
90210 Cast Pages:
Ryan Eggold
/
Shenae Grimes
/
Tristan Wilds
/
Jessica Stroup
/
Annalynne McCord
/
Dustin Milligan
/
Rob Estes
/
Lori Loughlin
/
Jennie Garth
Story by
Lauren Attaway
Starpulse contributing writer