'90210' Recap: Hello, Goodbye, Amen

After weeks away,
90210
still has yet to hit its stride. The theme of this episode, using your intuition, is spelled out early on by a teacher's lesson. So when Annie begins to suspect her new brother Sean, it's not like we didn't see it coming.
Ethan and Annie remind us that it's been awhile since the last episode when he starts in on how much he missed her while he was gone on winter break. They're still a couple, and Naomi is still as disgusted by that as ever.
Silver and Dixon have yet to break up, in spite of the Christina, the cheerleader who won't stop talking to him. Silver is rightfully on guard even though Dixon promises the two are just friends. It turns out Christina is a fan of gospel music and she invites him to a listening party with her. Dixon lies to Silver and goes to the party. Christina introduces Dixon to her dad, and he tries to remind her that he still has a girlfriend. She tells him that she does too, and points out her own gospel-singing girlfriend. Christina explains that she's bisexual, but has no feelings for Dixon. Yeah, right. Dixon immediately invites Silver over and apologizes. She forgives him too quickly after they share how alone he feels in his family again. Christina's dad then invites him to sing "Amazing Grace." Here's hoping Dixon isn't turning into this series' David Silver with the weak side music career.
Proving that Naomi has nothing else going on, she spends too much time trying to prove that Sean likes her better to Annie. Annie mostly ignores her, because she's determined to show her family that Sean isn't even their brother. When Sean comes to the family with a secret gambling debt, Annie and Dixon's dad is all set to crack open their college funds to bail out his firstborn. Thankfully their mother isn't having it. She demands that Sean take a paternity test, and of course he bails. But not before taking money from Naomi's mother. Naomi still blames Annie for everything that's wrong in her life, so this incident is just added to the list.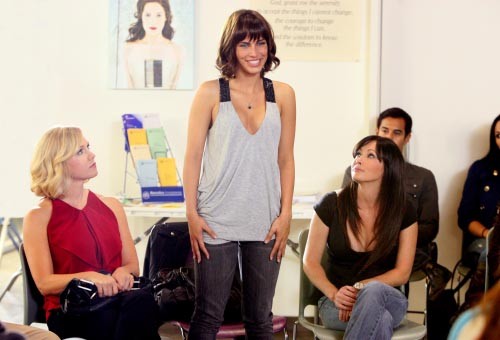 Kelly and Brenda are in this episode, and I still want them to get their own spin-off. It could be like the original, only old. Adrianna the ex-child star/drug addict asks Kelly how to get in touch with Brenda. She wants to invites Brenda to the Support Day at her rehab center. Kelly is still pissed at Brenda but she can't let Adrianna down and agrees to try to get in touch with Brenda. Elsewhere, Brenda goes to a doctor that likely has something to do with the fact that she was just in the hospital before the hiatus. Brenda tells the doctor she has no one she can call, because she burned all the bridges she has in Beverly Hills. Kelly shows up at Brenda's house and snaps at her when she rejects Adrianna's invitation.
Being a Walsh, Brenda feels guilty and she and Kelly both show up to support Adrianna. Adrianna realizes that she could be HIV-positive thanks to a rehab hookup and Kelly and Brenda go with her to be tested. Adrianna doesn't have HIV but she's pregnant. Brenda ditches them as soon as they receive the news and gives Kelly something else to be mad about. Kelly goes to confront her and Brenda explains that she just found out she can't have kids. They talk about Brenda's plan to adopt, and they finally put the Ryan issue behind them. Hopefully teacher Ryan returns soon and keeps the drama going.
90210 Stars:
Jessica Stroup
/
Ryan Eggold
/
Annalynne McCord
/
Jennie Garth
/
Rob Estes
/
Lori Loughlin
/
Dustin Milligan
/
Tristan Wilds
/
Shenae Grimes
/
more
Story by
Lauren Attaway
Starpulse contributing writer