'90210' Recap: Does It Live Up To The Original?

"
Beverley Hills, 90210
" premiered when I was a junior in high school, which made me the exact age the main group of characters were portraying. Not actual age, mind you. Though
Gabrielle Carteris
' character, Andrea Zuckerman, was my age, Carteris herself was 13 years older. Regardless, I was infatuated. I, too, had started a new school during my high school years. I felt a connection with the Walsh twins, Brandon and Brenda, as they were uprooted from their Minnesota roots and moved to the comparatively posh lifestyle of West Beverly High School.
Now, 18 years later, we have a new generation of West Beverly students. Where the original show really took the first few episodes to concentrate on Brandon and Brenda Walsh, the new "
90210
" jumps right in and almost overwhelms the senses with the cavalcade of characters introduced.
This time around, new West Beverly principal Harry Wilson (
Rob Estes
- who inexplicably is not playing the character of Kyle McBride from "
Melrose Place
," which is very much part of 90210 canon) and wife Debbie (
Lori Loughlin
) move their two kids, Annie (
Shenae Grimes
) and adopted son Dixon (
Tristan Wilds
), from Wichita, Kansas, to move in with Harry's alcoholic mother, Tabitha (
Jessica Walter
). So, yes, these two would be the new Brenda and Brandon, respectively.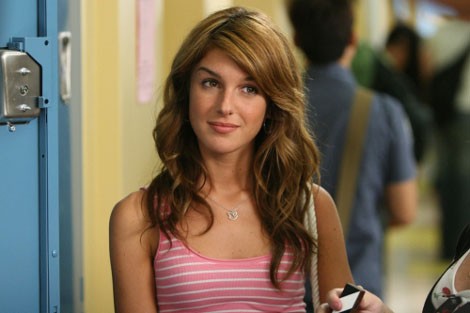 One thing the new show does that feels eerily similar to the original, as mentioned earlier, is the discrepancy concerning the characters' age when compared to the actors portraying them. Honestly, on the Wilson's first day of school I had a hard time deciphering who was a teacher and who was a student. For example, there seems to be a love triangle in the making between Annie, Ethan (
Dustin Milligan
) - the school Lacrosse star who Annie had met previously - and Ty (Adam Gregory), the richest guy in school. Until explained, I thought Annie was already involved in a risqué teacher-student relationship with Ty, considering he looks older than actual "hip" English teacher Ryan Matthews (
Ryan Eggold
).
An interesting dichotomy about this series is the "adult" situations, which appear actually quite normal in the context of the age of the actor, but out of place in regards to the age of the character. For example, when Ethan's girlfriend, Naomi (
AnnaLynne McCord
), is at a nightclub, The Pit, purchasing an alcoholic beverage I did not think twice at first. True, McCord is 21 in real life, but the character she plays had mentioned that she is 15! It may have been believable if she was 18 or 19, but 15? And not only that, but her teacher, the aforementioned Mr. Matthews, is sitting next to her and doesn't act surprised over her actions (
though he did inform the bartender not to serve her
).
There are familiar faces to be found.
Shannen Doherty
is back as Brenda Walsh, in town from London.
Jennie Garth
reprises her role as Kelly Taylor, now a guidance counselor and the love interest of Mr. Matthews. Her half sister, Erin (
the one born to her mother and David Silver's father in the original series
) is now a student at West Beverly who prefers to be called by her last name and seems to become Annie's closest friend. The daughter of Andrea Zuckerman, Hannah, also makes a brief appearance.
Joe E. Tata
, who played the owner of the popular hangout 'The Peach Pit' in the original series, is a welcome sight. He's returned to his role as Nat, and he's transformed his old digs into a nightclub-- simply called 'The Pit' (
and it's amazing he's not in jail for the many citations of underage drinking on his premises
).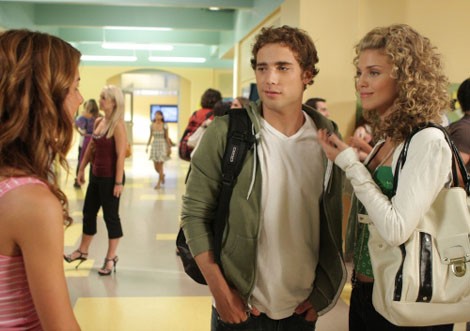 I think a problem, initially, for the new show is establishing the identity of the characters. There are just so many (there are at least four more main characters that I have not addressed) and a lot of their traits are similar. The pilot of the original "Beverly Hills, 90210" was wise to focus on the essential characters - Brandon, Brenda, Kelly, Steve Sanders, David and, yes, even poor Scott Scanlan - then slowly add more, as needed, as the seasons progressed. Keep in mind, they did not even introduce
Luke Perry's
Dylan McKay character until the second episode, and
Tori Spelling's
Donna Martin, at first, was barely a speaking role.
This new series, in all honesty, is not particularly good...yet. Granted, neither was the original. But it was the first of is kind, and it had strong enough character arcs that made the viewer, for whatever reason, care about the characters. When Scott Scanlan shot himself, I cared. When the new series introduces a character, Adrianna (Jessica Lowndes), who in the first episode already has a serious drug problem, my reaction is: which one was that again?
What did you think of the episode?
Leave a comment!
Story by
Mike Ryan
Starpulse contributing writer
Click to see "90210" pics: