'90210' Recap: 'Between A Sign And A Hard Place'

90210
has been hyping the return of Donna, and this week she continued to connect separate plotlines and move them forward in a way Kelly and Brenda both haven't. After admitting that she was separated from David last week, Donna continued to stay with Kelly, Silver and Kelly's son Sammy. Donna couldn't decide on a space for the store she wanted to open, and admitted to Kelly that she and David split because Donna wanted to raise Ruby in Beverly Hills. David didn't understand why Donna wanted to leave Japan, and the two fought enough to eventually separate.
Donna dragged Kelly to a psychic with her to ask about moving to Beverly Hills or going back to Japan. The psychic told Kelly to look for six-pack, and gave Donna a vague suggestion about looking for signs. Later, Kelly made fun of Donna's attempts to look for signs and Donna told Kelly that she needed to take more care of her own needs too. Donna asked some random girls where to go out that night, and the girls suggested a bar called the Truck Stop. Donna and Kelly went to the bar and realized it was a lesbian bar, but stayed and got drunk anyway. On the way home, Donna found the perfect place for her store.
When Donna told David about the store he brought up custody and she admitted to Kelly she thought David would pick her over Japan. Later, David sent Donna a card with the vague message "Thinking of You" but no other explanation. Kelly ran into Teacher Ryan at the store and the two decided to split a six-pack, making the psychic right. Kelly went back to Ryan's house with him, finally.
Silver was almost ready to go back to Beverly Hills until a group of mean girls reminded her that her video hadn't been forgotten. Dixon encouraged her to not let them get to her, but she couldn't handle being around ever her overly supportive friends. While hiding from everyone at Donna's store opening party, Silver admitted to Ethan she was transferring by choice to a Catholic school for girls. She wanted a fresh start, and she hadn't told Dixon yet.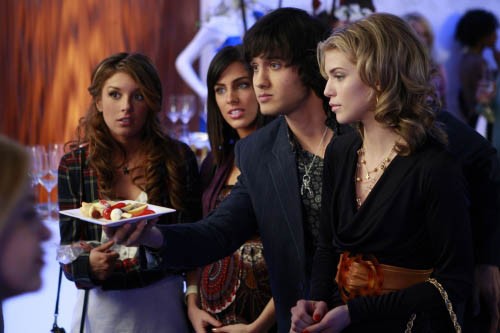 LtoR: Shenae Grimes as Annie, Jessica Lowndes as Adrianna, Michael Steger as Navid, and AnnaLynn McCord as Naomi on 90210 on The CW. Photos: Michael Desmond/The CW ©2009 The CW Network. All Rights Reserved.
Continuing with the trend for fresh starts, Ethan tried out skipping with Liam and got a detention from Teacher Ryan for skipping English class. While Annie and Dixon's parents hosted a garage sale, Annie and Naomi tried to rebuild their friendship. Naomi's dad got charged with sexual harassment and told her she needed to move out of the hotel to make him look like a better father. Naomi was upset with Annie when she realized Annie had already heard about this but hadn't told her. Annie apologized and asked Naomi to stay with her. The girls swore to be honest with each other and stop with the overly nice behavior. Naomi and Liam kept hooking up and he continued ignoring her until she finally told him to stop booty calling her and he agreed. Of course they hooked up after that.
Navid spent this episode showing how involved he has become in Adrianna's pregnancy, from baby books to meeting with potential parents. Adrianna finally admitted to wanting to have the baby and Navid told her he would help raise the baby with her. They then went from saying I love you to agreeing they should get married. If it sounds too fast, it's because this conversation lasted a total of five minutes.
Next week, it looks like Naomi and Annie's friendly behavior will come to a halt when Liam decides he's interested in dating both girls.
90210 Stars:
Jessica Stroup
/
Ryan Eggold
/
Annalynne McCord
/
Jennie Garth
/
Rob Estes
/
Lori Loughlin
/
Dustin Milligan
/
Tristan Wilds
/
Shenae Grimes
/
more
Story by
Lauren Attaway
Starpulse contributing writer