90210 'Lucky Strike' Episode Three

In the first season of the
original 90210
, Kelly's seemingly glamorous mom gets too messed up on coke and drugs. She ends ups embarrassing her daughter at a fashion show. Eighteen years later and Jackie's still drinking and throwing insults.
Episode three of
90210
opens with Annie, Dixon and their dad Principal Wilson having no time for the breakfast family time their mother is so badly missing. At school, rich bitch Naomi is still mad at her cheating ex Ethan. He tries to be nice to her and she throws her plans for a trip to Vegas in his face. Except she's going with her dad, so I don't think he's too let down about it.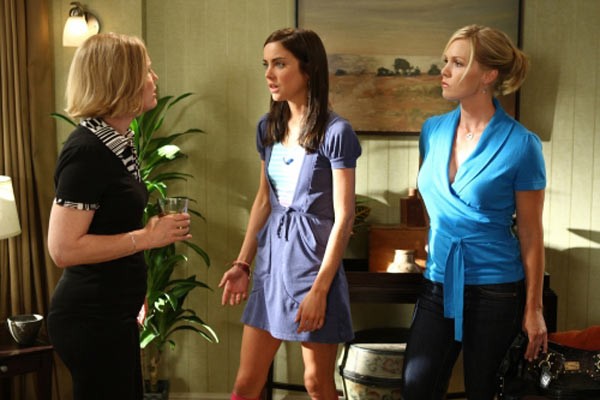 Original 90210 girl Kelly runs into her little sister Silver in the hall. Silver is late and avoiding conversation. The awkwardly old newspaper guy Navid suggests watching the new Bond movie at his house. If we didn't remember his father worked in the adult film industry, his friends are there with plenty of awkward jokes. The other Wilson kid Annie makes a date with the guy Ty. His best feature still appears to be that he has a plane and lots of connections.
When Annie and Dixon's parents tell them that they're having family night at Lucky Strike, their kids just invite everyone else. Even Silver manages an invite from Dixon, I wonder if Dixon would have still been so excited for her to go if he knew he was her last resort. He probably would because high school boys are not complex creatures. Silver couldn't stay at the women's shelter anymore because they actually need the beds for homeless. From the preview we know it's only a matter of time until Kelly finds out what's going on, so this just feels unnecessary.
Naomi's father cancels and buys her a car to shut her up. It's the same one he got her mother, so maybe he got them two for one or something.
When Annie's mother doesn't think it's that strange that she wore a miniskirt to bowl in, she might as well have called every one of her children's friends herself. Ethan tries again with Annie but her crush Ty shows up. Even Naomi gets a text that everyone's bowling tonight.
Kelly goes on another date with teacher Ryan and we find out that her son is the product of a one-night stand with a guy from high school. I'm betting its Dylan, because Brandon had a father figure.
Naomi and her obnoxious singing friend go for a ride in her new car. She finds some reason to go to her father's job and sees him with another woman. Even her friend can't act surprised. This just leads to Naomi crying on Ethan's shoulder while Annie gets to watch. And Annie's date ditches her, so she has a really great night going for her. Finally the elder Wilsons let their kids go hang out with their friends.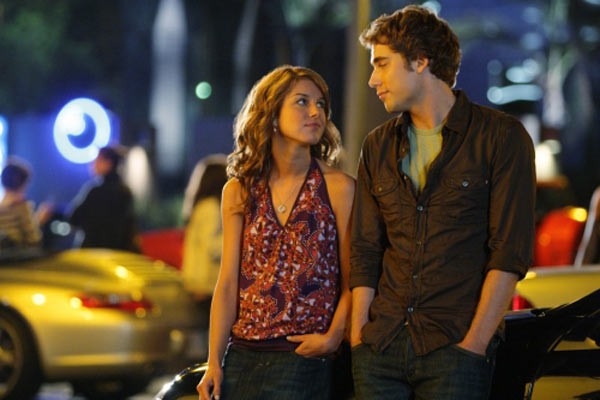 Later that night, Dixon finds Silver sleeping in the family car. She admits she's afraid of her mother when she drinks. Dixon convinces her to talk to his dad. He tells her about his own experiences with other families and why he doesn't drink. The whole exchange is dangerously similar to an after school special. Principal Wilson calls Kelly the next morning and she's ready to go yell at her mother.
When Naomi tries to talk to her mom, her mother already knows her father cheats. She just doesn't want to give up her comfortable life.
Kelly and her mom Jackie's showdown finally comes and they pick at old hurts. Kelly mentions cocaine in a reference to the original 90210 episodes. Jackie mentions her son's deadbeat father and then throws Silver out, so she kind of wins in the insult category. In the original episode Jackie went to rehab, but I don't see that coming for her just yet.
At the end of the episode, apparently Annie and Dixon remember they're lucky to have parents that like them. They make breakfast and the family begins to plan the next family night.
What did you think of this week's episode? Leave a comment below!
Stay tuned to Starpulse.com for weekly 90210 recaps!
90210 Cast Pages:
Ryan Eggold
/
Shenae Grimes
/
Tristan Wilds
/
Jessica Stroup
/
Annalynne McCord
/
Dustin Milligan
/
Rob Estes
/
Lori Loughlin
/
Jennie Garth
Story by Lauren Attaway
Starpulse contributing writer