'90210': Love Me or Leave Me

90210's
latest episode dealt with Adrianna's pregnancy and several key relationships. Annie and Ethan began the show with bare bones dirty talk that led to them both starting the "I Love You" chorus. The three words continued for them the rest of the show and caused problems between even Dixon and Silver. Annie and Ethan reacted to the Beverly Hills heat wave by barely keeping their hands off each other. Following a suggestion from Annie's grandmother that Annie go off to the Palm Springs' house to unwind, and suddenly Palm Springs became the Annie and Ethan coda for sex.
In Palm Springs, Annie gave Ethan a tour of the house where he naturally wanted to stop in the bedroom. Instead, she took him to a seven-course dinner where she finally decided she was actually ready to "go to Palm Springs". Annie was all set to sleep with Ethan until her talk about feelings made him want to slow down. After a fight, they agreed to go easy on elaborate sex plans, choosing to have less complicated dates.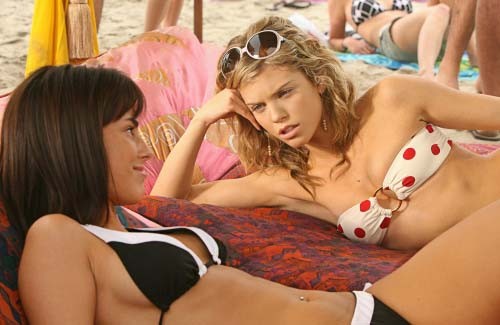 Dixon and Silver made their problems from last week look small in comparison to this week's tension. She returned to the bitter, pre-Wilson girl and Dixon didn't know how to react. From mocking Annie and Ethan to Dixon joining the conversation, it seemed like nothing passed her judgment this week. Navid's bad advice led Dixon to tell Silver he loved her, and the twosome got into a fight about her non-loving reaction. Silver later apologized but Dixon didn't want to talk about what happened, and the distance kept growing.
After finding out she was pregnant, Adrianna tried to reach out to Naomi. Naomi told her new clique that Adrianna was probably on drugs again and they naturally told everyone else. Naomi even told Navid, who was the only person at school who didn't immediately take what she said as fact. When Naomi found out the truth she started rebuilding her friendship with Adrianna. Naomi continued by standing up to her new group of friends after she found out that they were telling everyone Adrianna was using drugs. Adrianna told Navid about her pregnancy and he admitted he couldn't deal. At least Naomi appears to be sticking around to support her.
The Wilson women, in particular the grandmother and mom, had a battle of wills that started with the air-conditioning level and managed to include cars and vacation houses. Annie and Dixon's grandmother tried to give them a car and their mother took it away. Grandma Wilson reacted by giving Annie keys to her Palm Spring house and telling her that it was okay with her parents. The mini-vacation was enough for both parents to finally tell the grandmother to let them raise their own children. Annie's mom and dad followed her out to Palm Springs and didn't wake her when they realized she was sleeping in the bed and Ethan was on the couch. They slept in the car, which lead to Annie and Ethan awkwardly discovering them the next morning. Annie and Dixon's mom talked to their grandmother and the two women finally made peace, letting the kids keep the car. Their grandmother then headed off to shoot a miniseries, which was the biggest disappointment of the episode because it means no more awesome Tabitha interventions. Next week Teacher Ryan is back, and hopefully he brings more Kelly and Brenda drama with him.
90210 Stars:
Jessica Stroup
/
Ryan Eggold
/
Annalynne McCord
/
Jennie Garth
/
Rob Estes
/
Lori Loughlin
/
Dustin Milligan
/
Tristan Wilds
/
Shenae Grimes
/
more
Story by
Lauren Attaway
Starpulse contributing writer