9021-Yes! Check Out 'Beverly Hills, 90210: The Complete Series,' On DVD Nov. 5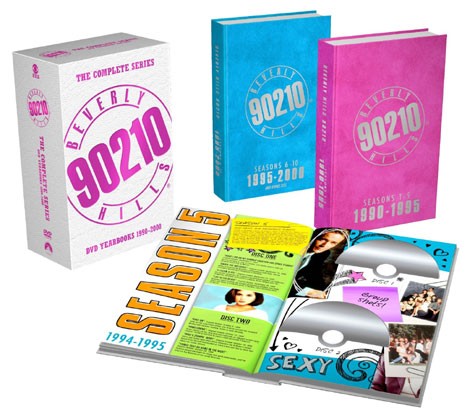 Classic 90s series "Beverly Hills, 90210" focused on the lives of high school students living in Beverly Hills, California. The show also followed the friends as they went to college and beyond.
The primetime soap portrayed privileged youth taking on the challenges of adolescence and young adulthood.  The collection features every love triangle, personal triumph and soul-crushing crisis from all 10 seasons.
Characters included Brandon Walsh (Jason Priestley), Brenda Walsh (Shannen Doherty), Kelly Taylor (Jennie Garth), Steve Sanders (Ian Ziering), Dylan McKay (Luke Perry), Andrea Zuckerman (Gabrielle Carteris), David Silver (Brian Austin Green), and Donna Martin (Tori Spelling).
The collection includes 71 discs in highly collectible yearbook-style packaging. It also includes an exclusive bonus disc filled with special features, only available in this special set.
The set features a newly produced interview with late show creator, Darren Star, which includes a special in-depth look back at the series and how it began. Additionally, the complete set features behind-the-scenes interviews with the cast, archival Entertainment Tonight segments, and the 10-year cast reunion special.
"Beverly Hills 90210: The Complete Series" debuts November 5 from CBS Home Entertainment and Paramount Home Media Distribution.
Fun fact: Jennie Garth and Shannen Doherty appeared in the spinoff "90210" on The CW.