9021-Oh No! Shannen Doherty Is First To Go In Surprising 'DWTS' Elimination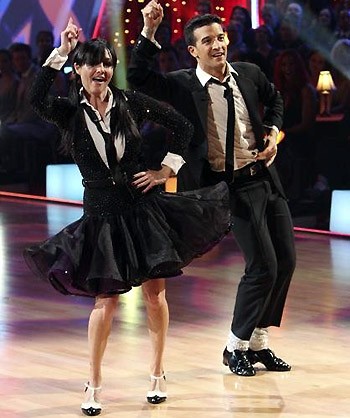 It's the first "Dancing with the Stars" Results Show of the season. Brooke Burke tells us right off the bat that this will be a "surprising and exciting night" and announces that Buzz Aldrin is safe from elimination and Pamela Anderson is one of the couples in the bottom two. Pam's WTF face shows that she was NOT expecting this.

Len hosts a pre-produced recap of the performances from the previous night.  Nicole Scherzinger gets the encore dance and I am definitely excited to see more dances from her and Derek this season.

The next performance comes from Michael Jackson's choreographers and features all the pros in a unique ballroom fusion dance. Decent filler material. As is Adam Carolla's "Between the Mirrorballs" commentary. Buzz does wear A LOT of astronaut/moon shirts.   

Tom reveals that Aiden & Edyta and Niecy & Louis are both safe from elimination.

Jesse and the Rippers perform next. Actually it's John Stamos and the Beach Boys… and let's just say, they've sounded better.  

"The Len Commandments of Ballroom" is a nod to those celebrating Passover while this results show is going on (and those who should be celebrating Passover but are instead watching DWTS) and features the cranky judge who is quickly becoming the star of this episode. And as a star, he's demanding that next week's dances each tell a story.

Three more safe couples are revealed. Evan & Anna, Jake & Chelsie, and Nicole & Derek will all live to dance another day.

Macy's Stars of Dance perform a tribute to the victims of the Haiti Earthquake. The segment begins  with a video that features dancers who were personally and directly impacted by the disaster. Forgive me but after that video, "Hips Don't Lie" felt like a weird song choice for their performance. Regardless, there's an opportunity to lend support at www.abettercommunity.com.

There's still more filler to get through and we see what new co-host Brooke Burke goes through in a day on 'DWTS' right up to announcing that Erin & Maks and Chad & Cheryl are returning next week.

After the next commercial, we find out that Shannen Doherty is in the bottom two and Kate Gosselin is safe. WHAT?????? And right after that, we find out that Shannen is the first one to go. NO!!!!! Also, it turns out that Mark hurt his knee and would have had to sit out the next six weeks of competition, had they made it through. Shannen's highlight reel plays, and I'm just sad. What happened to all the 90210 fans? Are they all just too busy watching '90210' to see that the zip code's original star was just kicked off this show? Gone before her time yet again… it's The Brenda Years all over again.
See more photos from Dancing With The Stars here!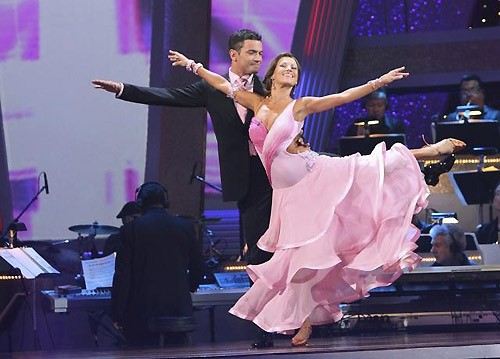 Story by Elissa Farkas
Starpulse contributing writer