84th Annual Academy Awards - Red Carpet Fashion (See Pictures!)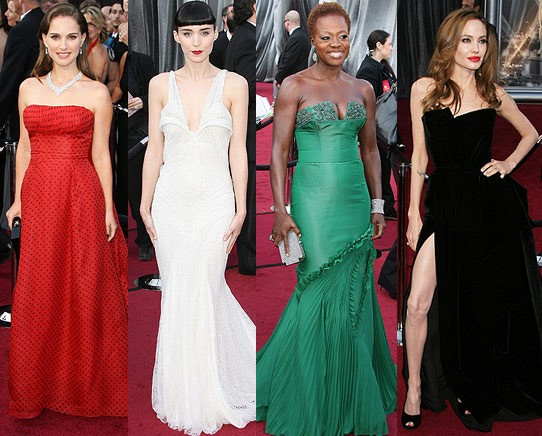 The Academy Awards aren't just about the movies - they're about the fashion and what the stars wore on the red carpet at the year's biggest event.

This year, much like the ceremony itself, there were few surprises and all the stars looked fabulous on the red carpet outside the Kodak Theater in Los Angeles. Well, okay - Kristen Wiig's brown J. Mendel dress and Meryl Streep's gold Lanvin gown? Not so much.

This year's highlights include Angelina Jolie looking stunning - although also a bit thin - in a black Atelier Versace dress that's almost an exact match of the one Jennifer Aniston wore to the 2010 Golden Globes. She even flaunted her leg on the red carpet and while presenting the Best Screenplay awards during the award ceremony.

Stacy Keibler was gorgeous in a gold Marchesa dress accompanying boyfriend George Clooney, whose film The Descendants won Best Adapted Screenplay.

It was a good night for whites, too, as Rooney Mara, Cameron Diaz and Gwyneth Paltrow dazzled in Givenchy, Gucci and Tom Ford, respectively. And Milla Jovovich and Octavia Spencer shimmered in silver & white dresses.

Check out some of the fashions from the red carpet below...