8 Best Moments From The 86th Academy Awards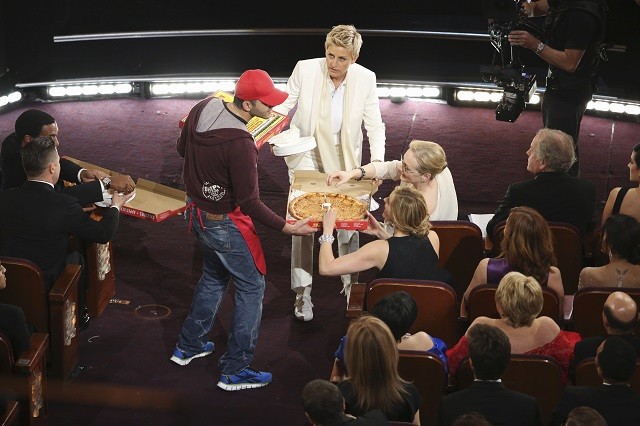 Oscars 2014 will forever be known as the year of good vibes, from Ellen DeGeneres' "killing them with kindness" opening monologue  to the group victory win for "12 Years A Slave." While the amazing moments that happened were too many to count, here are some of the highlights of the evening (with a few "did that really happen?") events as well!
1. Ellen DeGeneres As Hostess With The Mostess
This was Ellen's second time hosting the biggest awards show of the year. The first time in 2007, she brought a new energy to the tired format and was well-received by critics and celebrities in attendance as well.  With eleven seasons as host of "The Ellen DeGeneres Show", under her belt, this time out was more of a casual chat between friends as Ellen felt more at ease creating jokes at their expense. Said Ellen during her opening monologue, "Last time I was here, Meryl Streep was nominated Cate Blanchett was nominated, Leonardo DiCaprio was nominated, Martin Scorcese was nominated...so different from last time." She then deadpanned into a now Oscar-classic line, "18 years of nominations, hair and makeup, Meryl Streep cannot afford to be nominated again." DeGeneres took a sting at legend Liza Minnelli as well, referring to her as a Liza impersonator, stating, "Well done sir!" She gamely poked fun at Jennifer Lawrence and her memorable Oscar fall of 2013, stating, ""If you win I think we should bring you the Oscar," as well as mentioning that while working the carpet, Lawrence fell yet again. And, she handed-just in-case scratch off tickets to Bradley Cooper in case he didn't win. Yet, what had to be the most epic moment of the night was when Ellen ordered pizza for the audience and handed out greasy slices to the likes of Meryl Streep, Brad Pitt, Kerry Washington and Martin Scorsese. She then passed around Pharrell's iconic Grammy's hat (which he recently auctioned off for charity for $15,000, bought by Arby's) to tip the delivery guy.