7 Women Who Are Changing The Music Industry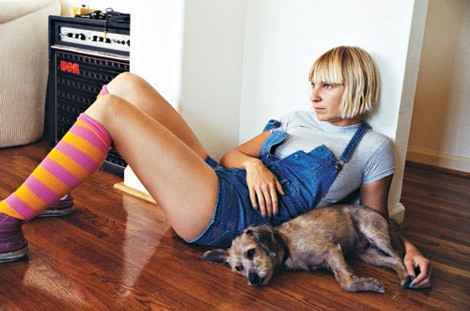 Last year, Alanis Morrisette admitted many radio stations wouldn't play "You Oughta Know" off her 1995 album, Jagged Little Pill. The reason? They already had two women in rotation on the radio. For years, the music industry has presented its own set of challenges specific to women. Whether it's executives telling how a young pop star should sex up her act to not being taken seriously by critics within their music genre. There are, however, a group of women who are using their voices and their music as an opportunity to push back and change what's considered the norm within the music industry. Here are seven of them.
Meredith Graves
Meredith Graves knew exactly what she was getting into when she named her punk band "Perfect Pussy." She knew it was going to get her attention, but she wasn't trying to be provocative. Instead, she started a conversation, telling Pitchfork:
"Really, it's just a nice thing to say to yourself. If you are born with those parts, you're born into a certain set of circumstances; I just turned 26, and I feel extremely old, and I spend a lot of my life looking at myself and my behavior and my body super critically. I think a lot of women have similar experiences, so after all this time I've spent being harsh on myself, it's validating to finally be ready to turn a corner and say, "I'm perfect and I'm not going to go on thinking that I'm supposed to dislike myself." It doesn't mean I'm absolving myself of critique, it just means I'm not going to waste another f*****g 10 minutes of my life not liking my body. It's me being f*****g stubborn."
She stopped a set during a show in Dallas, Texas to talk about how women are not taken seriously in punk music. At that same show, a reviewer for the Dallas Observer wrote a piece criticizing her clothing because it wasn't punk enough. Not only did he only prove Graves' set-stopping point further, he hit a nerve with her and she responded in a video on Stylelikeu as a part of its What's Underneath Project.
"I have no idea where this guy got off thinking it was acceptable to devote one paragraph to my politics, and three to my appearance. But according to him it became a question of my authenticity. He said that because of how normal I looked, the name of our band, my violent stage performance, and my feminism—seemed inauthentic."
The lesson learned? Let Meredith Graves be whoever the hell she wants to be.
Sia
There is no doubt you have heard either her songs or her voice. Sia basically dominated radio the past few years, writing songs for Beyonce, Katy Perry, Britney Spears, Rihanna and more. In 2011, she appeared on Flo Rida's "Wild Ones" and David Guetta's "Titanium" and on the Catching Fire soundtrack in 2013. Yeah, she's been in our ears a lot lately.
This year, Sia released her sixth studio album, 1000 Forms of Fear. For the album's promotion, the musician refused to show her face, appearing onstage with her back to the audience or laying on a bed while Lena Dunham lip-synched to the album's first single, "Chandelier." In the single's music video, instead of appearing in front of the camera, she had 11-year-old dancer and star of "Dance Moms" Maddie Ziegler take the spotlight. The result was a video that went viral, thanks to a catchy song and Maddie's unique dance moves.
So, what happens when an artist refuses to show their face during performances and videos? In Sia's case, a No. 1 album on the Billboard 200 and 52,000 copies of 1000 Forms of Fear sold in a week.
Lana Del Rey
The world has a well-documented love-hate relationship with Lana Del Rey. No matter how you feel about the singer, she's making headlines, causing controversy and selling millions of albums without an original mainstream radio hit. Sure, "Summertime Sadness" was 2013's sleeper-hit, but that was a remix, not appearing on her debut album, Born to Die. Despite having one remixed song hit the U.S. Billboard top 10, Born to Die has sold seven million copies worldwide. That's not including her latest album, Ultraviolence, selling 182,000 copies in one week, debuting at No.1 on the U.S. Billboard 200. As of this writing, Ultraviolence has yet to have a single crack to top 10.
Del Rey's success is proving what we've known for a while now: mainstream radio is losing power. It started out with iTunes and its single-buying options and is continuing with streaming services like Spotify and music-discovery apps like Shazam. Listeners are discovering new music on their own, sharing with their friends and are telling the industry what they want. What they want is more Lana.
Beyonce
All hail Queen B. Who else can release a full album at midnight with absolutely no promotion and practically break the Internet? Bey can. Not only that, she made the cover of TIME's Most Influential People issue and topped Forbes' Celebrity 100 list, with her earnings as of June 2014 at $115 million. She beat out her rapper/mogul husband, Jay Z, who took the No. 6 spot on the list. She even beat out Lebron James, who took the No. 2 spot with 2014 earnings at $72 million, by a giant $43 million margin.
Girls do indeed run the world.