7 Facts We Learned About 'Brooklyn Nine-Nine' From the TCA Press Tour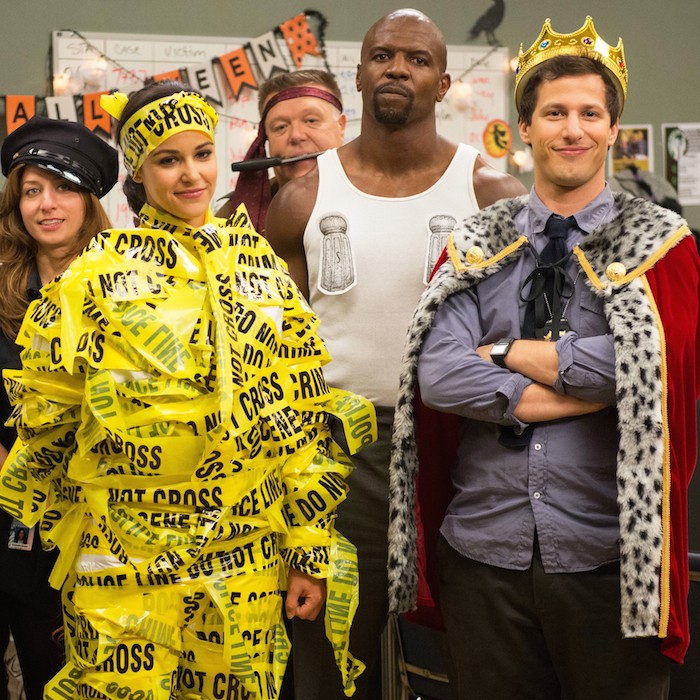 Last fall, "Brooklyn Nine-Nine" went from "a show that hasn't started airing" to "a show beloved by all" almost overnight. This is good. The bad is this peculiar season called "summer," when fall shows (such as "Brooklyn Nine-Nine") do not air.

But summer's end isn't too far away, which means we only have about two months and change (the season premiere is set for September 28) before "Brooklyn Nine Nine" rises anew. And in order to whet society's collective appetites, the cast and producers of "Brooklyn Nine-Nine" arrived at this summer's TCA Press Tour, to discuss the show's second season and also to stuff TV critics with cop show-appropriate donuts and lead them around the set.

Besides learning that donuts are, in fact, delicious, we also picked up some sparkling new details about "Brooklyn Nine-Nine's" second season.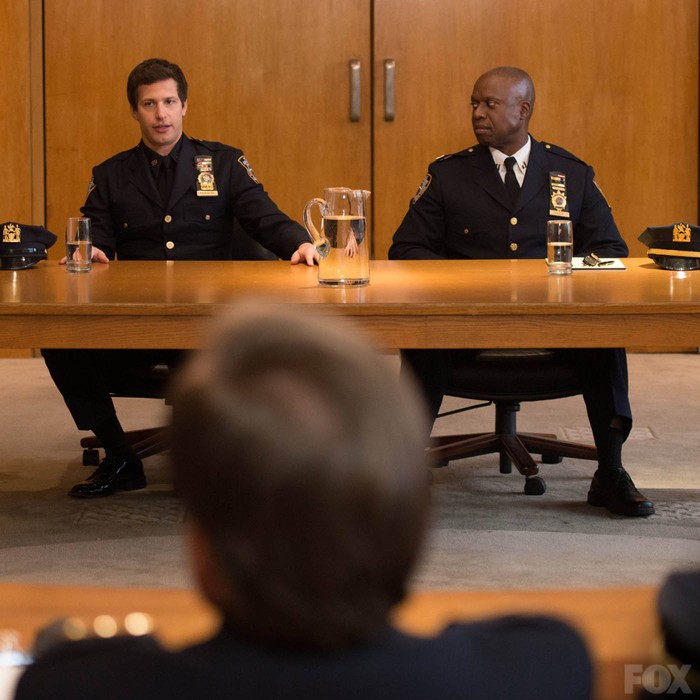 1. Season Two Will Start After a Time Jump

The last (also, first) season of "Brooklyn Nine-Nine" ended on a giant cluster of cliffhangers. Jake confessed his feelings to Santiago, then disappeared into a perilous new undercover assignment. Boyle got super wasted and ended up sleeping with Gina. It was a difficult time for everyone.

And while executive producers and series creators Dan Goor and Michael Schur wouldn't say anything about  next season's storylines, or how long Jake's undercover detail would last, they did give out one concrete detail: Season 2 doesn't start where Season 1 left off. We're getting a time jump of some kind (although, thanks to their hush-hush handling of this topic, that's about all we know).

Goor did, however, mention that the second season picks up in "2345, a terrible era," that all of the regular cast is dead and that the new characters all have gills. Treat this as seriously as you see fit.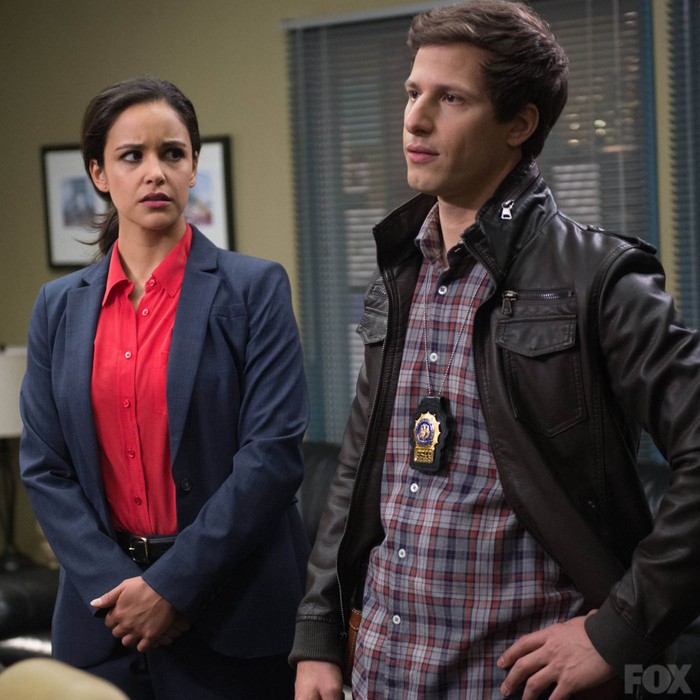 2. Jake and Santiago's Romance Will Continue, but It Won't be All Jim-and-Pam-y.

According to Schur, crafting a TV romance is like being a college football coach. They all have playbooks- the Jim and Pam, or the Sam and Diane. Jake and Santiago's inklings of love should not be counted among them, however, because "Brooklyn Nine-Nine" is shooting for an off-playbook romance.
There were no grand designs for relationshipping at the show's outset. Jake and Santiago sat next to each other, and they partnered up fairly frequently, so the writers eventually felt like sexual tension would develop naturally.

Just don't expect that scene where Jake proposes in the rain after five long years of will-they-won't-they. According to Schur, "it's not going to be the main focus of the show. It's going to be a thing. It's going to be one of the elements of the show that we are following as the year goes on."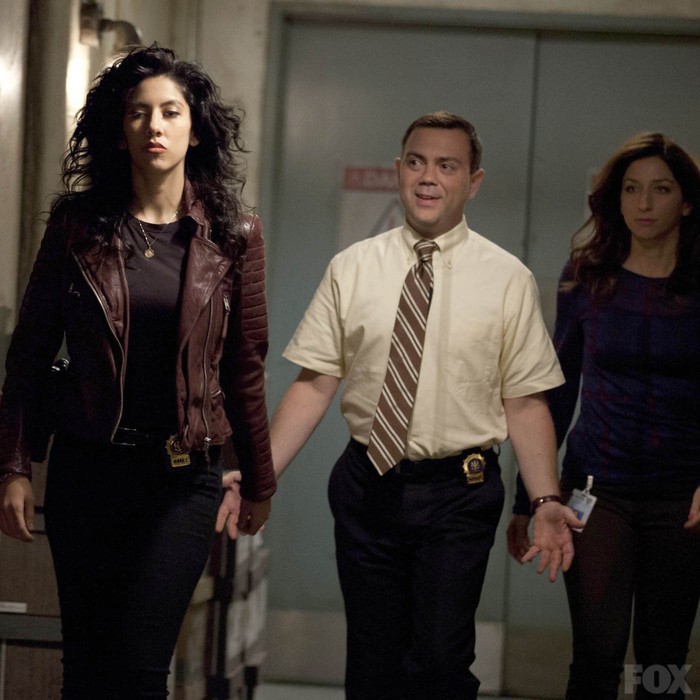 3. Boyle is Not a Creeper, and Was Never Meant to Be

Were you weirded out by Boyle's love for Diaz? A few folks at the TCA panel seemed to be, referring to his character arc as dominated by "relentless pursuer comedy" (Goor, meanwhile, thought that sounded more like an episode of SVU).

But creepin' wasn't the initial plan for Boyle. According to Schur, Boyle was written to be so puppy-dog innocent and so obviously inferior to Diaz that she would never in a million years feel uncomfortable about Boyle, hovering two inches behind her at all times.
Says Schur: "I think it would have turned legitimately creepy if there had ever been a moment where she felt ill at ease in her workplace... she is a self-possessed enough person not to feel threatened by that."

Given that Boyle has moved on to a new awkward horrible romance with Gina, he and Rosa will probably be on better terms next season.