6 Move On To The Finals Of 'So You Think You Can Dance'

It's settled. Next week is indeed the finale for Season 6 of
So You Think You Can Dance
. Cancel your plans and set your DVRs now otherwise you'll get busy, forget and suddenly you're calling friends who may have taped the finale of "
Glee
" that just snuck up on you. I'm sorry, my nerd is showing. (But seriously, if you have the show taped let me know, I got busy and forgot…)
The final bottom four of Season 6 read like my predictions: Legacy, Ryan, Mollee and Ellenore. Ok, for that to be true, Legacy and Mollee need to go. Amazingly, Ashleigh was saved by America. Last night she didn't even perform due to an injury! That lady has some rabid fans.
In the interim, while the soloists are sent off to prepare, some group called "The Wonder Girls" did something akin to an embarrassing tribute to the Motown girl groups of the '60s, except with a lot more suck. Can't they just make the saved performers dance just to eat up some time? These fillers are getting irritating.
Legacy showed a lot of endurance in his solo. He barely stood still for a second, save the poses on his head. Ellenore did her usual offbeat but technically challenged style. Perhaps she's not shocking the audience enough or her unique moves are so plentiful they go unappreciated? I can't imagine any other reasons why she deserves to be in the bottom two girls. Ryan simply repeated his solo from last night. It looked a bit more energetic, but I think he's relieved Ashleigh survived and doesn't care much about his final standing. Aw - but this is a competition and every moment matters. Mollee's solo was exactly like she has been for the vast majority of this season. Blank. Her performance was missing but the effort wasn't. She appeared desperate and a bit off in some of her turns and extensions. She truly looked shocked that Ashleigh wasn't in the bottom four - but hey, that makes some pretty good TV. Not saying the producers may have voted…20,000 times…Unfortunately for Mollee, I think there's more merit to America sending her home than Ellenore.
Kris Allen
performed to use up more time and we're finally told who is going home tonight: Mollee and Legacy. I finally call it perfectly! Only took me the entire season. I had thought Mollee would be the Kayla of this season and not just due to the blond hair. Her auditions for the top 20 were fantastic and her personality contagious. Sadly, she spent at least four weeks running in place during the competition and it may have done her in. That or always coming across as the baby sister on the show. Legacy, though gorgeous, wasn't better than Jakob and Russell at the end, and he didn't have the voting pull of Ryan begging for his wife. The thing about the finale is that all 20 dancers are given a chance to perform one last time, with the focus being on the top 4 top 6. We'll see all our old favorites again even if they're done competing. So please, set your DVRs!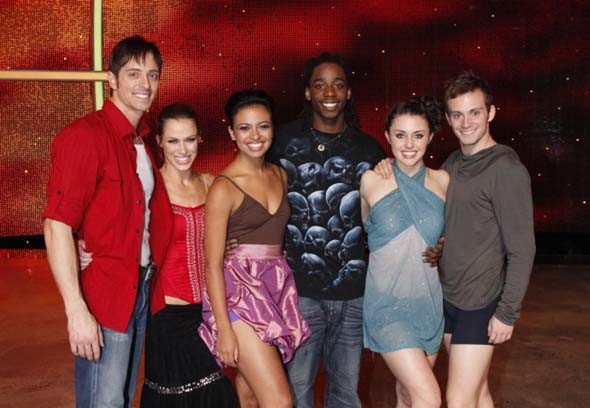 TOP 6 finalists Pictured L-R: Ryan Di Lello, Ashleigh, Di Lello, Ellenore Scott, Russell Ferguson, Kathryn McCormick and Jakob © Fox Broadcasting Co.
Story by
Kate Kostal
Starpulse contributing writer