6 Kutless Fans/Guitarists Will Play Live On Stage With Kutless At Summer Festivals

-
Promotion with PRS Guitars Will Also Include Give-Away of Custom Guitar
SEATTLE, Wash. – May 10, 2007 – Rock band
Kutless
will "audition" guitar players this summer as part of an innovative new promotional partnership with PRS Guitars, which makes guitars favored by some of the world's most renowned touring professional musicians such as
Carlos Santana
,
Dave Navarro
,
Dave Matthews
and James Mead of Kutless.
While Kutless won't be offering a permanent spot in the band, they will give six aspiring guitarists the opportunity to play with them, live, at one of six summer music festivals, with the grand prize winner receiving an autographed custom PRS Guitar. The promotion -- PRS Guitars invites you to
Rock The Festival with Kutless
– will include a two-round online battle of the band's style competition with PRS Guitars and Kutless choosing the semi-finalists from self-produced videos submitted via YouTube.com and the grand prize winner determined from an online fan vote.
"This promotion is the ultimate 'mash-up' of all the elements that have helped to make Kutless one of the most successful touring bands in the Christian music business…. first-class musical instruments, huge summer festivals, robust online connectivity and fans who are as fanatical and knowledgeable about music as they are about Kutless. " said Chance Hoag of Platform Management. "Kutless is looking forward to this promotion as much as anything they've done in a long time."
Lead Kutless guitarist, James Mead adds "I am honored to use PRS guitars onstage, and in the studio. They are the best guitars I've ever played and it's awesome that one of our fans will get to own one of these amazing instruments. The promotion is going to be a blast and I can't wait to see the contest videos start rolling in."

To participate in the PRS Guitars Invites You to
Rock The Festival with Kutless
promotion, entrants will post to YouTube.com a self-produced video playing guitar to the Kutless song, "Somewhere in the Sky." Members of Kutless and representatives from PRS Guitars will review every video, selecting six finalists, one finalist to play at each of these festivals: Alive Festival in Canal Fulton, Oh. (6/21); Creation East in Mt. Union, Penn. (6/30); Sonshine in Willmar, Minn.(7/14); Creation Northwest in George, Wash. (7/27); Spirit West Coast in Monterey, Calif. (8/3) and Rock the Desert in Midland, Texas (8/11).
Each of the six finalists will be filmed playing live on stage with Kutless for "Somewhere in the Sky" and the tapes of those performances will be posted at
www.myspace.com/kutlessprscontest
at the conclusion of all the festivals for 10-day public voting period. The grand prize winner will receive the PRS SC250 guitar, autographed by the band and valued at more than $3,000. Runners up will receive various prizes ranging from a PRS SE Custom to Kutless/PRS apparel.
"In the course of this promotion, more than 150,000 music fans will be cheering for our six finalists live in concert and countless thousands more will watch and vote for the videos online. PRS Guitars is thrilled to be a part of a project of this magnitude. We know it will be exciting, rewarding and a lot of fun; we can't wait to get it underway," says Jack Higginbotham, President of PRS Guitars.
Kutless guitarists James Mead and Nick DePartee play an extensive collection of PRS guitars including the Custom 22, Custom 24, Singlecut Trem, Standard 24, Singlecut, Singlecut Satin and Hollowbody II. The Kutless players are part of an impressive roster of touring musicians who have helped make PRS Guitars a premier guitar maker alongside Gibson and Fender. Other well-known PRS Guitar players include Chris Henderson of
3 Doors Down
; Tim Mahoney of
311
; Billy Martin of
Good Charlotte
, Brad Delson of
Linkin Park
, Jason Truby of
P.O.D.
and Noah Henson of
Pillar
.
For all the details and contest rules and regulations, visit
www.myspace.com/kutlessprscontest
and for more information on PRS Guitars, visit www.prsguitars.com. Information on the summer music festivals can be found at:
·
Alive Festival
·
Creation East
·
Sonshine
·
Creation Northwest
·
Spirit West Coast
·
Rock the Desert
PRS Guitars Invites You to
Rock The Festival with Kutless
Rules and Regulations: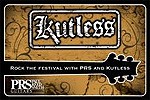 How to enter:
-Video yourself playing guitar to the Kutless song, "Somewhere in the Sky" and post it on YouTube.
-Email the link of that video to kutlessprsvideo@yahoo.com.
I-nclude in that email which festival you will be attending and competing for. (You must be present the day of the festival and can enter for whichever festival(s) you are attending. You must pay your own way into the festival.)
-Kutless will review each entry and choose one winner (and one runner-up) for each of the following six festivals: Rock the Desert, Spirit West Coast Monterey, Sonshine, Creation East, Creation West and Alive.
-If you are chosen as a finalist, you will play on stage with Kutless for one song (Somewhere in the Sky) during their festival set. You will be video taped during this performance and the performances will be posted on
www.myspace.com/kutlessprscontest
. If the winner cannot attend, the runner-up will be named the winner and will perform and compete for the guitar.
-After all six festivals have occurred, the performances of the six finalists will be posted on www.myspace.com/kutlessprscontest and will be voted on by the fans.
-VOTE!
-After 10 days of voting, the performance with the highest number of votes wins the GRAND PRIZE: A Paul Reed Smith SC250 and $100 in Kutless merch! There are also 2nd, 3rd and 4th, 5th and 6th place prizes (listed below).
-Enjoy your new guitar and treasure your performance video for a lifetime!
The official rules:
-You must submit your video and email at least 2 weeks prior to the festival for which you wish to compete. See deadline dates on
www.myspace.com/kutlessprscontest
.
-You will be notified 1 week prior to the festival date if you are chosen as a finalist or runner up.
-If you are chosen as a finalist, you must be able to play at the festival and be at the designated area at least 2 hours prior to the set or you forfeit your spot as the winner and you will be replaced by the runner-up.
-The video and audio that is submitted must be you playing without help or enhancement.