50 Years Later, 'The Dick Van Dyke Show' Still Holds Up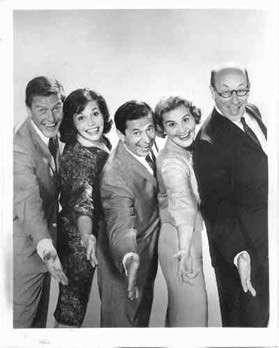 It's almost impossible to believe, but it's true: 'The Dick Van Dyke Show' premiered on CBS 50 years ago next month.  Yes, it was half a century ago that America was first introduced to the Petries' living room and the office of Alan Brady's writing staff.
What's even more amazing is that the show still holds up better than ever.  'The Dick Van Dyke Show' was one of the first sitcoms to depict a husband and wife who actually had the hots for each other – even though they supposedly slept in separate beds.  (It was obvious that wasn't always the case. I mean, they had a kid and everything.)  The show made a true star of Dick Van Dyke and of Mary Tyler Moore, who was 23 when the show started and is now pushing 75.
That element of the show was perfectly balanced with Rob Petrie's work life, thanks to the brilliantly cast Rose Marie and Morey Amsterdam as Rob's crackerjack writing staff.
The show was the first to win four Emmys for either best comedy series or best drama series.  It also won several writing and acting awards, and it deserved them.  Few shows before or since combined wit, family, work and vivid characters.  The comedy always seemed natural.
It's fitting, then, to do one of our favorite things: make a list of the ten best 'Dick Van Dyke' installments.  Here we go, in reverse order:
10. 'Draw me a Pear' – Season Five – Oct. 20, 1965
This episode isn't always laugh-out-loud funny like some others, but it's very clever and displays the strong bond between Rob and Laura. After they attend an art class together, Laura becomes convinced the attractive instructor wants to pursue Rob.  Rob (perhaps fairly, given Laura's track record of jealousy) doesn't believe a word of it, but it turns out to be true.  The scene in which he realizes it, when he's forced to draw a sketch of the woman while touching her face, is hilarious.
9. 'My Husband is not a Drunk,' – Season Two – Oct. 31, 1962
As unlikely as the scenario is, the payoff is comic gold.  While hosting a party, Rob accidentally becomes hypnotized.  He's trained to act drunk whenever he hears a bell ring.  Throughout the episode, whether it's a door bell, the telephone or a typewriter, Rob abruptly lapses into falling-down drunkenness, and it proves both embarrassing and amusing.
8. 'Pink Pills and Purple Parents' – Season Four – Nov. 25, 1964
A great showcase for Mary Tyler Moore.  Back when Laura and Rob are a new couple, she's terribly nervous about meeting his parents.  Millie gives her some pills to calm her nerves, but they make her downright loopy.  Laura sliding off her chair and under the dinner table perfectly displays Moore's knack for physical comedy, a great complement to Van Dyke's talents.
7. 'I'm No Henry Walden!' – Season Two – March 27, 1963
Rob is invited to a fundraiser by a famous author, and he thinks it must be a mistake.  Everyone in the room is more famous and has more money than he.  That's what makes it awkward and funny.  This episode is a good example of how good the casting of small supporting parts was.  The outing is filled with amazing character actors, including Everett Sloane and Doris Packer.  Carl Reiner even makes an appearance (before his first on-camera spot as Alan Brady) playing an academic who is literally incomprehensible.  Watch Van Dyke try not to laugh during that scene.
6. 'Where Did I Come From?' – Season One – Jan. 3, 1962
The question, of course asked by Ritchie, says it all.  Rob and Laura recall when she was about ready to give birth, sending Rob into a state of panic.  The show really started to find itself with this episode, partly because it was one of the first to display Van Dyke's true gift with physical comedy.  The scene in which he's lying in bed with a suit under his pajamas, just waiting to go to the hospital, is a classic bit.
5. 'The Attempted Marriage' – Season Two – Oct. 10, 1962
Another flashback. This is a sweet outing where we learn how Rob proposed and how he and Laura almost didn't get married.  The series certainly became fond of flashbacks (as 'Everybody Loves Raymond' did decades later) and the device lends itself well to the show's storytelling.  Highlights include Rob proposing to Laura in an Army jeep and Rob's perilous doctor's appointment before the wedding.
4. '100 Terrible Hours' – Season Four – May 5, 1965
This installment is underrated and perhaps one of the show's funniest.  Rob recalls the days when he was a DJ and took on a challenge to stay awake for 100 hours while on the air.  Unfortunately, that's when Alan Brady calls to offer him a job interview.  The ensuing meeting, with Rob falling over from exhaustion and crying about a cat stuck in a tree, is priceless.
3. 'The Life and Loves of Joe Coogan' – Season Three – Jan. 22, 1964
This episode showcases the series' finest attribute: the ability to go from hilarious to poignant without seeming contrived.  This outing, written by creator Carl Reiner, has Rob running into an ex-beau of Laura's – who now happens to be a priest.  But Rob doesn't know that, and he sets him up with Sally, which makes for a very awkward evening.  (Upon her entrance, a hungry-looking Sally says, "Okay, where's this handsome, tall, good-looking… [seeing his collar] PRIEST you wanted me to meet?")  Reiner has said this is his favorite episode, and he's particularly fond of the sonnet Joe wrote to Laura.
2. 'It May Look Like a Walnut!' – Season Two – Feb. 6, 1963
This bizarre story is a bit of a 'Twilight Zone' parody.  It's got fantastic dream sequences involving walnuts (duh), Laura sliding down a shoot of walnuts out of a closet, and Danny Thomas staring out of eyes in the back of his head.  If that doesn't sound funny, then you're crazy.  Seriously, though, this episode proves to be unpredictable, wacky and unusual.  Tidbit for enthusiasts: this was the first episode to depict the episode's title at the end of the opening credits.
1. 'Coast to Coast Big Mouth' – Season Five – Sept. 15, 1965
This is the classic where Laura blabs about Alan Brady's toupee on a New York game show.  The comedy (and suspense) is built up around how Alan will react to the world learning he is bald.  The climactic scene with Laura stammering and Alan pounding on his mannequin heads is one of the series' best comic bits.