50 Cent's 'Street King' Drink To Help African Children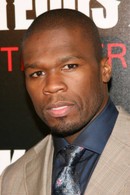 Rapper 50 Cent's profits from his new energy drink line will go towards feeding a billion African children.

The hip-hop star, real name Curtis Jackson, is already a shareholder in drinks firm Vitaminwater, and is now launching a new beverage named Street King, available in orange mango and grape flavors.

Jackson is planning to give proceeds from the sale of every drink to help the "devastation and desperation" in the struggling continent when the product hits shelves in America this week.

The star, who is working with Pure Growth Partners on the campaign, is asking his fans to sign up to the project's website, saying, "I need you to utilize your energy - your voice - to provide additional motivation for me at times."