50 Cent To Release Fitness Book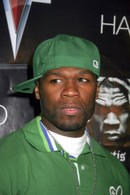 Toned rapper 50 Cent is set to share the secrets of his exercise regime in a new body makeover fitness book.

The hip-hop superstar, who is known for his bulging biceps and ripped torso, is putting pen to paper for his latest literary venture, Formula 50: A 6-Week Total Body Transformation Plan.

The In Da Club hit-maker will also give readers tips on good nutrition to help fans "make positive changes and take charge of their overall health."

Formula 50 will be co-written by BodyBuilding.com editor Jeff O'Connell and will hit retailers in January, 2013.

The rapper has previously written teen novel Playground and his 2009 business strategy book, The 50th Law.