50 Cent To Release 10th Anniversary Mix Tape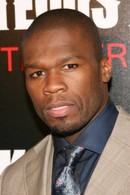 Rapper 50 Cent will mark his first decade in showbusiness on Friday by releasing a tribute to the mix tape that kick-started his career.

The hip-hop star became an overnight sensation in 2001 when his "50 Cent Is The Future" project hit the streets and launched him as a potential rap heavyweight.

And he's hoping fans will be as impressed with his 10th anniversary effort, "The Big 10," as they were when his debut was released.

He says, "I think that when people hear the tape, they'll be surprised. It'll hold 'em over until my album comes out."

The new mix tape features samples from the late Notorious B.I.G. and a reworked Bobby Womack "joint" but 50 Cent isn't giving much away about the tracks.

He tells Vibe, "It's further back then just doing someone else's record that just came out. I see that so often from new artists, they follow the trend of what I did in that time period so often that it's been exhausted. It's a traffic jam in that area at this point."

The mix tape will also feature his latest G-Unit signings: "I'm introducing the new regime."

The Big 10 will be released on Friday via his website Thisis50.com.

Meanwhile, he's not the only rapper working with Womack on new music - the soul man recently told WENN he's recording tracks with Snoop Dogg for a new album, which is being co-produced by Blur's Damon Albarn.