50 Cent To Play Alaskan Pimp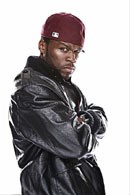 50 Cent will play an Alaskan pimp in a new movie about 1980s serial killer Robert Hansen.

As previously revealed, the rapper/actor will executive produce thriller The Frozen Ground, but now it's clear he will be among the ensemble cast too.

John Cusack, Nicolas Cage and Vanessa Hudgens will also appear in the film, which will start shooting in Alaska next month.

Hansen, who was known as The Butcher Baker, murdered 17 prostitutes and strippers. He'll be played by Cusack in the film.

50 Cent's Cheetah Vision production partner Randall Emmett will produce the movie.