50 Cent Threatens To Delay Album Release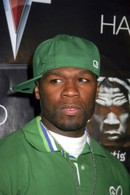 Rapper 50 Cent has threatened to delay the release of his new album after a bitter feud with his record company.

The hip-hop star - real name Curtis Jackson - is gearing up to unveil his latest collection of tunes, and last month he told how he was determined to replicate the stellar success of his 2003 debut, Get Rich or Die Tryin'.

However, following a heated exchange with his record label bosses on Thursday, the rapper took to his Twitter.com blog to tell fans the release of the album is under threat.

In a series of posts, he writes, "OK I tried to be cool with my record company. I went to the meeting (to) talk to everyone and s**t feels like there (sic) moving in slow motion. I'm sorry to announce I will not be releasing a new album this year if we don't get on the same page.

"I would rather not launch my album with out (sic) a plan the whole system is executing. I don't know why they play with me they know how I get. My whole career iv (I have) been doing s**t and they have been playing catch up... they better wake up and work. I worked really hard on this album I'm not gonna let it come out like some bulls**t. There (They are) use (sic) to me just putting it out."

Asked by one fan if the meeting had seen him "flip out" at the company bosses, Jackson replied, "Yea (sic) but f**k it."