50 Cent Slams 'Corrupt' And 'Deceitful' Politicians And Businessmen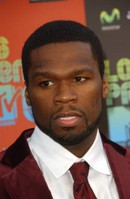 Rap superstar 50 Cent has lashed out at "corrupt" politicians and greedy businessmen in a new blog post and urged fans not to "turn a blind eye" to their "lies and deceitful dealings."

The "In Da Club" hitmaker, who has made it his mission to feed one billion African children by the end of 2013, is appalled by the stories of social injustice and corporate greed constantly dominating news headlines of late and, perhaps inspired by the Occupy Wall Street protests taking place in his native New York, the hip-hop star has vowed to fight the system and do what he can to help the needy.

In a lengthy post on his website ThisIs50.com, he writes, "The world is so f**ked up. People don't seem to care anymore. People seem to have distanced themselves from other people's problems, they have been programmed not to care!

"Politicians are corrupt...So many companies are corrupt and taking excessive profits in certain sectors.......and we keep allowing this s**t to happen.

"There are 1 billion plus people living in extreme poverty. You know what that is? You don't know if you're getting your next meal, no shelter, no medical. You have no chance of hustling your way out of it! We have been programmed to not give a s**t about these people! Well I have woken up and Im not turning a blind eye anymore!

"...Children are dying everyday from hunger. Its f**ked up, it's wrong and I am angry. Im (sic) not going to shut up or give up - f**k the system, its (sic) wrong. wake up we are being used!

"Innocent children are dying each day.... we need to shout out to companies, politicians that we aren't playing their games anymore. We are waking up to their lies and deceitful dealings.

"Im angry, Im going to make a difference and no one is going to stop me. Join me if your tired of being used and manipulated. Make this world fair for everyone."