50 Cent Reunites With Lil Kim Down Under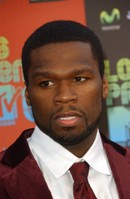 Rappers 50 Cent and Lil Kim performed their song "Magic Stick" together for the first time on Wednesday - eight years after they recorded the collaboration.

The pair teamed up for the raunchy track in 2003 for Kim's hit album, La Bella Mafia, but fell out soon afterwards.

However, the stars have since reconciled and they hit the stage together at the WinterBeatz Festival in Perth, Australia this week for the surprise duet.

50 Cent, one of the headliners at the event, ended the performance by making sexual gestures with the microphone.

The In Da Club hitmaker was also joined by a few other guest stars, including rapper Fabolous and R&B singer Mario.