50 Cent Q&A: 'Blood On The Sand,' Rick Ross As A Pizza Guy & More

50 Cent's
weapon of choice is a 9 mm handgun - at least for his new third person shooter video game "Blood on the Sand." In a call with the hip hop star/actor/video game producer, Starpulse got the scoop on the rapper's battle with
Rick Ross
, his thoughts about how women are portrayed in his game, and much more!
Conceptually "Blood on the Sand" is very different from his first video game, "Bulletproof." Gamers play as 50 Cent, who performs for a war torn country and discovers his payment, a diamond skull, is stolen. 50 and G-Unit battle across two middle eastern countries to "unleash hip-hop justice."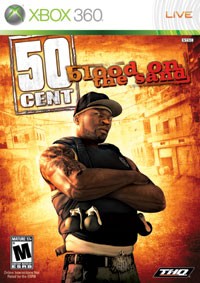 50 Cent's visit to Iraq a couple of years ago inspired the setting. And making the game was also an opportunity to create some exclusive music - 'Blood On The Sand' features 18 never-before-heard tracks.
50 says, "When it came time to create the actual music it made me draw from my imagination at that point...being able to go somewhere without having to explain myself because it was for the game," he explained. "From the '
Curtis
' album vs. this project is kind of in a fantasy environment, my range is different."
Over the years critics have complained about the portrayal of women in video games, and 'Blood on the Sand' is no exception. What does 50 think about the use of derogatory words such as "bitch" and "ho" in the game?
"The harsh reality is these words exist. I didn't make them up," he admits. "They create a description of a person's lifestyle or their behaviors...when you say 'bitch' at a certain point it's to describe a person's behavior. If you say 'ho' it might be because she wants to s--- - ---k right now, she might want to go on a date, she might be in pornography...If the game is too aggressive for certain people, it's rated material. The standard was created to say this is acceptable for adult entertainment."
He adds that children shouldn't come into contact with the game unless they are under supervision where someone can explain it. 50 also points out that the words used in the game can be found elsewhere - on the big screen and online. "Even if your kid is sheltered...I'm sure they're hearing these terminologies...I don't feel like they're hearing anything for the first time on this game," 50 comments.
Are there any digs at rival rappers in the game? No, says 50. "But 'Blood in the Sand' is the title of it, and 'Elephant in the Sand' was my last issue with
Fat Joe
," he explains.
50 point out that any negative experiences with a rival rapper actually inspire him, taking him to places he wouldn't have gone on his own.
"When someone tries to do something derogatory I kind of like to turn it around and make it positive...When Rick Ross calls me Curly I turn it into
Pimpin' Curly
, a character," he says.
Hip hop is so competitive that altercations and challenges happen out of nowhere, says 50, even if you don't personally know the instigator.
"Kind of like the Rick Ross/50 Cent situation, because I didn't meet him. He just had really bad timing. Because I'm not within the album cycle where I'm occupied with creating my materials, so I ruined his life. He'll be working in a pizza shop before I'm done. They won't let him go back to being a correctional officer, so he's going to have to work at Tony's," 50 says.
Meanwhile, these challenges often end up as good press. "There is no way Rick Ross could have won that potential situation from the very beginning. But it's an opportunity for me to create interest," he admits.
Just check out 50's website,
thisis50.com
- its traffic increased 60 percent since the Rick Ross "thing" due to weekly events, cartoons and Pimpin' Curly.
See the 'Blood on the Sand' trailer here:
"Blood On The Sand" was released Feb. 24.
Story by
Noelle Talmon
Starpulse.com contributing writer