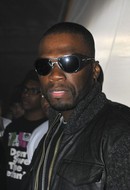 Hip-hop superstar 50 Cent is single again after reportedly splitting from his model girlfriend.

The "In Da Club" hitmaker has been dating sexy Daphne Joy for several months and she was by his side as he celebrated his 36th birthday just last week.

But, in a series of posts on his Twitter.com blog on Tuesday morning, 50 hinted he's back on the market.

He writes, "Man I think I made a bad investment. I put to much energy into a women (sic). I lose again but I'm doing great in business.

"No distraction I'm ready. I don't know how that happens. We all have imperfections I guess?"

The tweets were picked up editors at gossip website MediaTakeOut.com, who subsequently claimed Joy had dumped the rapper/actor because he refused to use his contacts to help her break into Hollywood.

However, 50 - who has previously dated Vivica A. Fox and comedienne Chelsea Handler - has blasted the allegations surrounding the apparent break-up.

He adds, "Meidafakeout (sic) is always trying to make something out of nothing but people like that s**t or they wouldn't go look. More fake story's (sic)."