50 Cent: 'I Want To Feed 1 Billion People In Africa'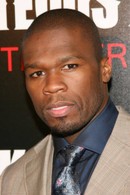 Rapper 50 Cent is determined to use his position of influence to help the world's needy and has set himself a five-year goal to feed one billion Africans.

The In Da Club hit-maker famously turned his life around from being a drug dealer in New York to becoming one of the world's biggest-selling hip-hop artists, and has built himself a huge fortune since his debut in 2003.

Now, the star is eager to give back, and is focusing his philanthropy on Africa's hungry.

In a post on his Twitter.com page, he writes, "I want to impact people's lives more. I created a new goal for myself; I want to feed 1 billion people in Africa over the next 5 years."