50 Cent Glad He Defied Partners To Make Football Film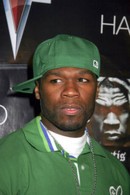 Rap superstar 50 Cent defied his production partners to press ahead with making his football drama All Things Fall Apart because he was determined to honor a close friend he had lost to cancer.

The "In Da Club" hitmaker wrote the script for the upcoming movie, in which he portrays a sportsman battling a health crisis after doctors find a tumor inches from his heart.

Another of the film's stars, Mario Van Peebles, directs the drama and it was recently picked up for distribution by movie bosses at Image Entertainment.

All Things Fall Apart premiered at the Miami Film Festival in Florida earlier this year and 50 Cent is grateful for all the glowing reviews it has received, because it justifies his decision to ignore the advice of his business associates.

In a series of posts on Twitter.com, he writes, "So you all know All Things Fall Apart is the kind of movie that is really hard to get studios to finances (sic). My partners were against the idea at first then changed there (sic) minds after they saw the movie. All the positive feed back I received makes me feel like I was right.

"I wrote produced and financed the film. I lost some (one) really close to me to cancer. this film is symbol of our friend ship (sic)."

All Things Fall Apart also features Ray Liotta and is scheduled to hit movie theaters early next year.