50 Cent Gets In Depth On His Rise & Loss Of Mother On VH1's 'Behind The Music'

50 Cent's
episode of "Behind The Music" showed a slightly softer side to the controversial rapper. Unlike the other episodes that have premiered since the music special's re-launch, 50's episode highlighted more of his achievements than his setbacks.
The episode started off by shedding light on 50 Cent's humble beginnings. 50 (real name Curtis Jackson) briefly spoke about the death of his mother when he was 8 years old. By 12, 50 decided to get into the drug life by selling drugs. While his grandparents thought he was at the after school program, he was out selling crack cocaine.
By 14 he was arrested for bringing drugs to school, and at 17 he was busted yet again when cops found money and drugs stashed in his apartment. 50 Cent ended up spending 6 months in a military style boot camp for his felony. When he was released, he went back to dealing drugs. The rapper said that his stint in the military boot camp did not teach him to stop dealing, but instead taught him how to not get caught again.
Inspired by rappers like the
Notorious B.I.G.
, 50 Cent made a decision to pursue a career in music. In 1996 he had a chance meeting with
Run DMC
's
Jam Master Jay
. The meeting eventually led to him recording a demo track, which later led to Jam Master Jay signing 50 Cent to his label. 50 Cent under Jam Master Jay's wings would adopt his moniker; the rapper described the selection of his name by stating "For me 50 Cent was a metaphor for change."
After realizing that Jam Master Jay wasn't giving him the attention he felt he deserved, 50 decided to leave Jay's label to sign with Columbia records. His single "How to Rob" (a song that was written in 45 minutes to help 50 deal with his frustration with the industry) got 50 the fan and media attention he was searching for. The increase in attention from the single also gave rise to an onslaught of enemies.
A song written and recorded by 50 Cent titled "Your Life is On the Line" was targeted at
Ja Rule
who at the time was Hip-Hop's dominating artist. The song would cause conflict between the two rappers which escalated into a physical altercation. One notable event was when Ja Rule and his entourage paid a visit to a recording studio known as the Hit Factory. 50 Cent, at the time, was recording and when Ja Rule arrived a fight broke out ending with 50 being slashed with a steak knife.
In May 2000, 50 Cent was shot 9 times outside of his grandmother's house. After surviving the shooting, 50 Cent took the life threatening ordeal as a sign to work harder at perfecting his skill; unfortunately, record label execs were worried about their safety in the presence of 50 Cent, resulting in the rapper being dropped from his label Columbia Records.
50 Cent also mentioned during the special that
Sean "Diddy" Combs
was interested in working with him in hopes of having 50 Cent write songs for him; but 50's lifestyle proved to be too much for Diddy.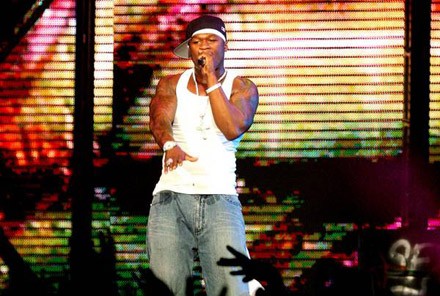 Image © Graffiti Press / PR Photos
After linking up with
Eminem
and Dr. Dre in 2002, 50 finally made his debut with his album Get Rich or Die Tryin' the following year. 50's episode continued to highlight his array of beefs, his 100 million dollar Vitamin Water deal and his staged album face-off with Kanye West.
For fans who have watched 50 Cent's breakout film
Get Rich or Die Tryin'
, none of the information revealed in 50 Cent's episode of "Behind The Music" was of the unknown. Though the episode allowed 50 Cent to get in depth about his come up and the lost of his mother, there was a lack of new information and it almost seemed like some important elements were left out.
At any rate, 50 Cents episode showed that no matter how low a person may find themselves in life they can simply turn things around by dusting themselves off and trying again in making their aspirations a reality.
Story by
Samantha Greaves
Starpulse contributing writer