50 Cent Apologizes To Record Label Bosses For His Twitter Tirade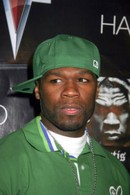 Rapper 50 Cent has apologized for lashing out at his record label bosses last week, revealing he wrongly accused them of leaking his song.

The In Da Club hit-maker entered into a war of words with Interscope executives last May after claiming they were "moving in slow motion" and he later delayed the launch of his fifth studio album.

He continued the drama last week, revealing he had "lost all the faith in the team I'm on".

However, the rapper has now taken to his Twitter.com account in an effort to smooth things over with Interscope bosses, confessing his rant was unjust since they weren't responsible for the leak of his music - as he had previously thought.

In a series of posts he writes, "Discovered a computer glitch leaked my song. Sorry to team at interscope for over reacting!I (Interscope chairman) Jimmy iovine has been like a mentor for me."
"I just want to stay friends"