5 Things You Need To Know About 'Oblivion'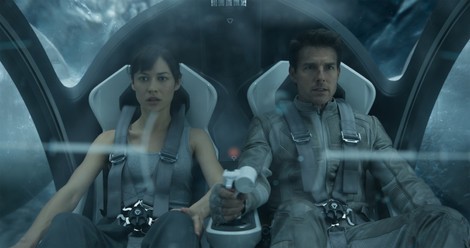 The sci-fi flick 'Oblivion' starring Tom Cruise hits theatres in the U.S. this weekend. The movie has made some noise overseas, where it made some $61 million (half the film's budget) in its first weekend. In anticipation of its big opening, here are five things you need to know about 'Oblivion.'
1. Not an adaptation of David Foster Wallace's short story collection, Oblivion
No, Oblivion isn't John Krasinki's follow-up to his adaptation of David Foster Wallace's Brief Interviews with Hideous Men. An Oblivion adaptation would be harder than Brief Interviews with Hideous Man. Oblivion, the expensive sci-film out this Friday, is about life after an alien invasion that wiped out most of humanity. Joseph Kosinski co-wrote, produced and directed the film based on his unpublished graphic novel. Tom Cruise's Jack Harper is one of the last humans on earth, living in the sky while preventing attacks from warring aliens. The humans won the war, but the aliens destroyed half of the planet. Did humans REALLY win then? Eventually, he's joined by an outrageously attractive woman (Olga Kurylenko), and, later, by Morgan Freeman and his violent buddies.
2. There's MORE to the alien invasion than Tom Cruise initially thought
Indeed, the alien invasion wasn't just a random alien invasion. Morgan Freeman advises Tom Cruise to search for the truth if he wants to find it. How long will it take for Cruise's Jack Harper to find truth? Hopefully long. Mystery in sci-fi is essential to the success of whatever story is being told. Good mysteries can carry a film whereas bad mysteries can drag a film. It's worth noting that Morgan Freeman's glasses/goggles in the movie are spectacular.
3. It pays homage to the sci-fi films of the 1970s
Kosinski stated the above in an interview, and he didn't make clear whether he meant the great sci-fi films of the 1970s, like A Clockwork Orange, Alien, Invasion of the Body Snatchers, Close Encounters of the Third Kind, and Star Wars, or if he meant the bad films of the 1970s like The Omega Man. One should assume he meant the former. Oblivion could be entertaining and nostalgic.
4. Tom Cruise fears Robert Downey Jr.
Universal Studios originally scheduled the film's release for July 19; however, Tom Cruise fears Robert Downey Jr. Iron Man 3 is supposed to be the movie that kicks off the summer film season, but Universal Studios wanted Oblivion to kick-off the summer season with Oblivion, and they weren't ballsy enough to go head-to-head with Iron Man. Instead, the film gets released in the second to last weekend of April, it'll make some money and Tom Cruise can hold his head high. The script went through several re-writes anyway, which isn't uncommon, but it doesn't inspire confidence. Universal must've felt less enthused about the movie's profitability in the competitive summer market and opted for a less competitive date in April instead.
5. Michael Arndt, screenwriter for Toy Story 3, wrote the final re-write of Oblivion!
Speaking of the re-writes, Michael Arndt wrote the final re-write of the script. Arndt's involvement is worth paying attention to because he's writing the next Star Wars film. Arndt's a brilliant writer. He penned Little Miss Sunshine, the upcoming Hunger Games, as well as the upcoming theatrical film for Phineas & Ferb. Star Wars fans can rush to a rash judgment based on Oblivion, for good or ill!