5 Things We've Learned From 'Killer Women'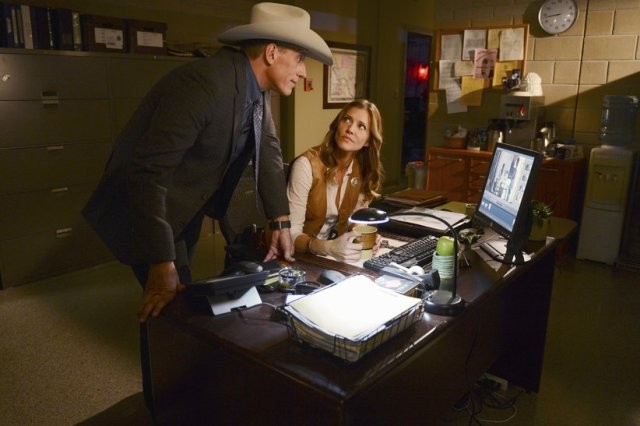 ABC's Killer Women hasn't been a ratings success, but that doesn't mean that we haven't enjoyed watching it. In fact, we've actually picked up a thing or two from the show since it began in January. Here are five things that we've taken away from Killer Women, that have made us glad that it's been on the airwaves.
01) Tricia Helfer can lead a television series. How did it take this long for Ms. Helfer to be cast front and center? You'd think people would've fallen over themselves to land her as their lead; she's talented, tough, and beautiful. Now as stalwart Molly Parker on Killer Women, she's proven that she can carry an entire TV series on her shoulders. On screen, she's been believable as the Texas Ranger you don't want to cross; off screen, our interview with her showed just how thoughtful she is and how hard she works. The fact that the series hasn't become a smash hit isn't the fault of Tricia, who's made Molly tough but not overly so, and endeared her to the audience. Whatever happens to Killer Women, she deserves plenty of future opportunities to be number one on the call sheet.
02) Michael Trucco still deserves his own show. We've actually known this one since Fairly Legal, but we're going to include it here because it remains true. Michael Trucco's been stealing episodes since he was on One Tree Hill. As Molly's brother Billy Parker, he's only in a handful of scenes in each episode of Killer Women, and he's still doing it. Billy is a character we care about and want to know more about, even though his story is usually third behind the case of the week and Molly's romance with Dan. That's because Michael is talented enough to fully realize a character even with limited screen time. He's carved out a nice niche as the guy who supports the strong female character, but we're waiting until somebody gives him a chance to be the star.
03) We learned who Marta Milans is. The Spanish actress landed her first starring role in an American TV series as Billy's wife and Molly's sister-in-law, Becca Parker, and we're so incredibly glad that we discovered her. The way Marta plays Becca as the stable - yet not docile - mother and spouse has provided a great counter to Molly's hectic and dangerous lifestyle. And like Michael, Marta's made us care about Becca even though she's underused. When it was insinuated that Billy might be having an affair last week, our heart broke for Becca, which wouldn't happen if the actress playing her didn't make us fall in love with her. Having gotten to know Marta in our interview with her, we can say she's a lovely woman who we look forward to seeing a lot more often.
04) Jeffrey Nordling still plays a jerk like nobody's business. It seems like every time an ABC series needs a guy we can hate, they call Jeffrey Nordling. On Once & Again, he played Sela Ward's slightly annoying ex-husband. On Body of Proof, he was Dana Delany's former spouse. (Heck, you could even go back to Disney's D3: The Mighty Ducks, where he played the stuck-up coach who replaced Emilio Estevez.) And so, here we are with Killer Women, where he's Tricia Helfer's abusive ex-husband, Jake Colton. Nordling hasn't missed a beat with Jake's smarmy, self-centered ways; we definitely hate his character. Although, that probably means he's the nicest guy in the world in real life.
05) Beth Riesgraf can turn bad. In the second episode of the season, "Some Men Need Killing," we were shocked to discover that the perpetrator Molly had to contend with was played by none other than Beth Riesgraf. See, we're not used to hating her. We're used to loving her as the socially awkward thief Parker on Leverage, or Reid's ill-fated love interest Maeve Donovan on Criminal Minds. We've never seen her as a bad girl, yet she surprised us by playing Jennifer Jennings, the interior designer capable of eliminating men who didn't need to stay in the picture. That just proves how versatile of an actress Beth is; we'll be looking at her differently from now on. But we still miss Leverage.
So this isn't a show that's going to break any ratings records, or earn any awards come next Emmy season. Yet we're not going to write it off, either. There's a lot to appreciate within Killer Women, and we'll be watching these last few episodes of season one content with the knowledge that we've gained quite a bit from checking this one out.
Killer Women continues tonight at 10 PM ET/PT on ABC.
(c)2013 Brittany Frederick. Appears at Starpulse with permission. All rights reserved. No reproduction permitted. Visit my official website and follow me on Twitter at @tvbrittanyf.