5 Things We Want To See From 'Suits'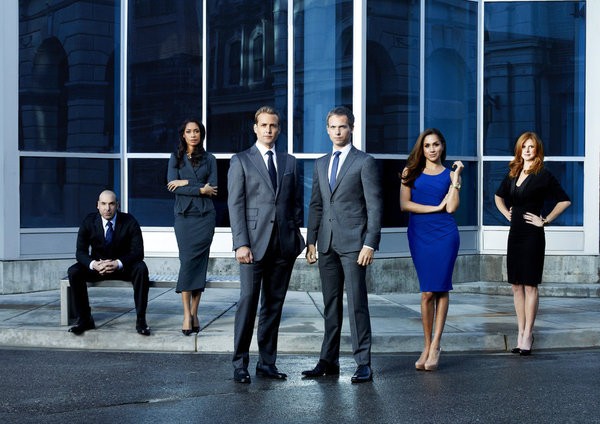 If you've read us for any length of time, you know that we consider Suits to be the best show on TV, and one of the best shows of all time. We're amped up for the series to return tonight with the remaining six episodes from its third season. And while we don't want to spoil anything about those episodes, we love this show so much that we couldn't help but wonder what would make it even better. Here are five things we'd love to see from Suits; you can add your own in the comments.
01) An end to the "someone discovers Mike's secret" cliffhangers. The show has gone to the well of someone finding out Mike Ross (SAG Award nominee Patrick J. Adams) doesn't have a law degree three times over three seasons. It was a gut punch for us when it was boss lady Jessica Pearson (Gina Torres). It was understandable but not as powerful when it was Mike's crush Rachel Zane (Meghan Markle). But now, it seems obvious - and sort of too familiar - as Louis Litt (Rick Hoffman) has finally put the pieces together. The series has gotten all the mileage it can out of these reveals; there's no one in the main cast left who isn't privy to this piece of information. Given that, we think we're done here, but if for some reason we're not, we really need to be done here.
02) Rachel's storyline continues to develop. It'll be interesting to see how the series deals with Rachel being accepted into law school, since that's a process that takes a lot of time over several years, and it's not as if The Powers That Be are going to be stupid enough to write Meghan Markle off the show. But of the main characters, Rachel has been the least developed. Her major storyline has always been her on-again, off-again, on-again relationship with Mike; at times, she feels more like a component to him than a full-fledged character of her own. Suits has taken steps to fix that by introducing us to Rachel's father (a wonderfully grating Wendell Pierce) and having her pursue law school, but there's still further we can travel down that path.
03) A guest appearance by Jesse Macht. One of the buzzed-about things this season is that series star Gabriel Macht is sharing the screen with his father, Stephen, who plays a Harvard ethics professor that Gabriel's character Harvey Specter tries to silence. It's as awesome as you think it is. But since we've opened that door, why not have Gabriel's brother Jesse Macht drop by while we're at it? He's acted in addition to being a ridiculously talented musician, so he'd fit right in. We know that Harvey has a brother, so it's also plausible. And Jesse could even provide some great music to weave into said episode. Let's make it happen, folks.
04) More stability within the law firm. In a similar vein to our first point, a recurring theme of Suits has been internal conflict within the office. We've seen Harvey and Jessica fight Daniel Hardman for control, we've seen Harvey and Jessica fight each other, and most recently, Harvey and Jessica toppling Edward Darby. The firm has gone through three name changes in three seasons. All that infighting has provided great drama, but again, let's not go in the same direction too often. These are all characters we love, and it would be a nice change of pace to see them not having to fight each other while they've already got plenty of worthy adversaries elsewhere in the legal world.
05) A further fleshing out of the Harvey-Scottie relationship. It's official: Harvey and Dana 'Scottie' Scott (recurring guest star Abigail Spencer) are a couple. Here's the problem: we've never quite bought into their relationship. Maybe it's the whole thing where she slept with Harvey while she was engaged, or the scene in the midseason finale where it felt like she was guilting him into saying that he wanted her. But we don't believe in them, and with their new status set to be a significant part of these final six episodes, we need to find a reason to care. Harvey's romantic life has never been as compelling (or even necessary) as his professional one, so we've got our fingers crossed that this subplot gives us something more than standard romantic filler. After all, if we want romance, that's what we have Mike and Rachel for.
Suits returns for the final six installments of Season 3 starting tonight at 9 PM ET/PT on USA; stay tuned every Thursday for our recap and reviews of each episode. Season 4 begins shooting later this year.
(c)2014 Brittany Frederick. Appears at Starpulse with permission. All rights reserved. No reproduction permitted. Visit my official website and follow me on Twitter at @tvbrittanyf.