5 Things We Learned From 'Criss Angel BeLIEve': 'Double Straight Jacket'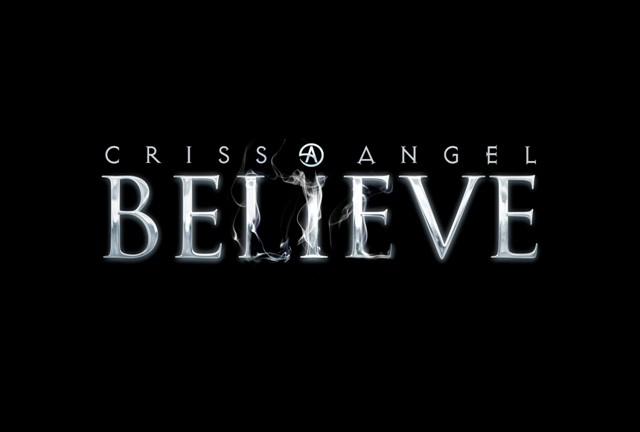 In this week's episode of Criss Angel BeLIEve, Criss came home to New York to perform an ambitious double straight jacket escape, while reuniting with his family and showing us how he became who he is. It was one-part magic show, one-part history lesson. Here are five things we learned from "Double Straight Jacket."
01) When you don't know, know that you don't know. This perfectly interesting sentence is actually true of most episodes of BeLIEve, but particularly in this one. Seeking advice on how to withstand the weight that will be placed around his neck, Criss visits his friend and Mixed Martial Arts star Randy Couture. In Randy's second appearance on the show, he explains the two forms of chokes and what it feels like to be choked out. We've seen Criss consult with numerous experts when there's an X factor in the demonstration that he needs to master or be more aware of, and taking that time to educate himself is part of why he's successful. (It's also telling to see that even Randy Couture is slightly surprised by what Criss wants to do.)
02) How to make a magician. A major part of "Double Straight Jacket" involves Criss visiting his childhood home, reuniting with members of his family, and giving Krystyn the tour of where, how and why his magic career began. Some of this isn't revelatory to fans, but the general public might be surprised that everything we now see started in an average childhood bedroom just like yours or mine. Criss wasn't born with a silver spoon in his mouth and he didn't know anybody who opened the doors for him. It was a dream, years of his hard work, and the support of many folks (more on them in a second) that made it possible for him to become Criss Angel. It's a reminder that if you really have passion for what you're doing, and you're willing to work constantly to achieve it, anything is possible.
03) Never underestimate the value of paperwork. Most people don't enjoy paperwork. You usually have a dozen better things to do than file those TPS reports. But the struggles of location manager Spiro in this episode prove that you can't underestimate the paperwork. Criss's entire demonstration was held up by one permit, and if the team hadn't gotten it, the whole thing would have been shut down. Countless hours of work by Criss, Team Angel and their crew, who knows how much money invested, and the time and effort to bring the whole production to New York could've been for absolutely nothing. We're never told just how that permit finally came through, but however you finally pulled it off, Spiro, we salute you.
04) The importance of one's family and friends, and how they're affected by what you do. We have the opportunity to meet a few important members of Criss's family in this episode - his mother, one of his brothers, and his aunt, who's responsible for introducing him to magic in the first place. (And if you look closely, you also saw a few other members of Criss's support team in the background of several shots.) A really touching thing this episode does is allow us to see Criss's work through their eyes. His loved ones mean the world to him, and they are obviously proud of all he's accomplished. But it's also not always easy to watch, as evidenced by how his mother worries about him (because she's his mother, and that's what moms do, especially when your kid is Criss Angel). Take a second to think about how it would feel if you were watching your son, brother, husband or best friend do something potentially fatal and there was nothing you could do but stand there. These folks deserve some props of their own, for their constant support of Criss, and for what they go through as well.
05) Consequences. This wasn't actually shown in the episode, but fans now know that this demonstration aggravated a pre-existing shoulder injury, for which Criss is now going to have surgery in early 2014 in order to avoid permanent damage. That knowledge definitely added another dimension to this episode. Even though he's doing things that are larger than life, Criss is still just a human being (and he'd be the first person to tell you that). Taking big risks means that he's going to get hurt - and his commitment to his craft means that he's going to play through it to the best of his ability. Here's wishing Criss all the best in his recovery, and we know he'll be back taking on the next challenge soon enough.
The next episode of Criss Angel BeLIEve airs next Tuesday at 10 PM ET/PT on Spike. For more about the show, you can check out BFTV's in-depth chat with Criss Angel.
(c)2013 Brittany Frederick. Appears at Starpulse with permission. All rights reserved. No reproduction permitted. Visit my official website and follow me on Twitter at @tvbrittanyf.