5 Reasons We're Excited for 'Masters of Sex' Season 2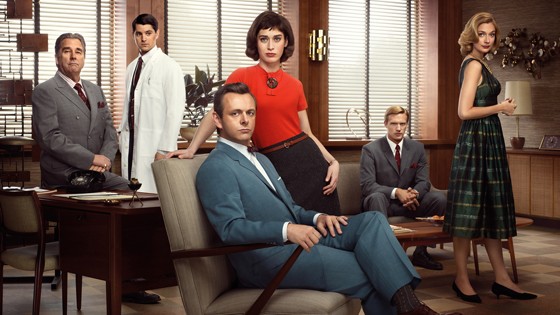 With the Masters of Sex second season premiere approaching, it's time to get excited about the return of our favorite series about the science of sex. When the show first debuted in September of last year, it was a risky sell for audiences. It was yet another one of the many period pieces that popped up after the success of Mad Men, with the added bonus of being centered solely on a study about sex. There was the risk that it would pale in comparison to the other great Showtime series and focus more on titillation than strong writing. However, Masters of Sex soon proved naysayers wrong by becoming one of the smartest, most emotional series of the year.
Here are a few of the reasons why we're excited about the second season.
1. Return to the Emmy Nominated and Emmy Worthy Performances
Although the show didn't receive a nominated for Best Drama Series, three of the actors were got Emmy nominations for the first season. Lizzy Caplan, the brilliant and capable star of the show, is nominated for Best Actress in a Drama, while Beau Bridges and Allison Janney's sad, sham-married couple are nominated as guest actors in their respective categories. Their performances alone, along with fellow star Michael Sheen, are some of the most noteworthy on all television. The relationship between the closeted Barton Scully and his unfulfilled, lonely wife Margaret was among the best acted partnerships on television last year. And the chemistry between the leads makes the show worth an hour of your time.
2. Cool New Guest Stars
Both Sarah Silverman and Keke Palmer were announced as the newest additions to the already great Masters of Sex roster. Keke Palmer will be playing the nanny to Bill and Libby Masters' new baby. Sarah Silverman will be playing a former girlfriend of Betty, the prostitute who helped Masters first set up the study. Both characters open up a world of amazing possibilities for the future of the show. The addition of Betty's ex is especially exciting because it means we'll be seeing more of that complicated, yet underused character. Whether Silverman and Palmer will live up to the greatness of the other guest stars like Janney and Bridges remains to be seen, but it definitely has potential.
3. Seeing History Unfold
The basis of what modern society knows about the body during sex began with William Masters' study. When it comes to fictionalized historical shows like Mad Men, there's always a bit of separation from reality. But with Masters of Sex, viewers know that what their watching is history coming to life. It will be really interesting to see if the show highlights some of the unethical parts of the study, particularly the parts that may have tainted the results of the study in the eyes of the scientific community even to this day.
4. Sex Positive TV
It's rare to have a TV show that shows human sexuality not only in a positive light but not solely in an effort to show some skin. Virginia Masters is one of those rare female characters who gets to enjoy sex and take control of her sex life without being seen in a negative life. The storyline with Margaret Scully's desperation to finally have a positive sexual relationship was unlike anything on TV, especially since she's an older woman. If the show continues to paint female sexuality in a positive light, it will definitely make history.
5. To See if the Show Can Beat the Showtime Curse
Most of the shows that first premiere on Showtime are cutting edge and completely unlike anything that airs on television. Their first seasons are well-written, with top notch acting and compelling stories. Unfortunately, the networks shows have a bad habit of going off the rails not long after. Shows like Dexter and Homeland, which each premiered to universally-acclaimed first season reviews, soon found critics and viewers wondering what happened to their once great shows. Hopefully, Masters of Sex won't lower itself to drawn out stories, plot holes, and out-of-left-field character development.
Masters of Sex premieres on July 13, 2014 at 10 p.m.