5 Reasons Arrow's Olicity Ain't Happening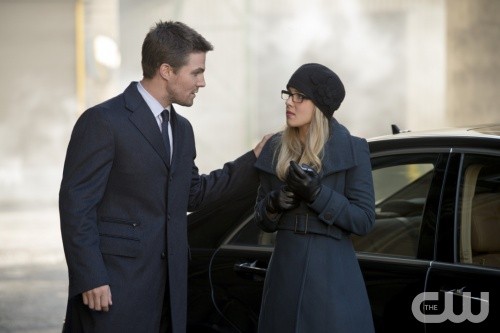 Dear Olicity-shippers everywhere, 'Arrow''s Oliver-Felicity match-up ain't happening. Give it up, especially after last week's episode, "Heir to the Demon," which buried Olicity hopes far underground. Although I ship for Olicity major league, after watching Felicity sink into the background since Sara's return, I've finally given up the ghost. It's pretty clear Ollie will push Felicity aside every time a hot new love interest appears. Why? Because Ollie's a major slut who only cares about himself and his feelings at the moment.
Why do I ship for Olicity? Because Felicity's the show's best female character, alongside Moira. The comic Black Canary is a smart, crafty technician who's arguably a better fighter and thinker than Ollie. However, the only woman that proved as smart as Ollie, strong as Ollie (personality-wise) and determined as him is Felicity (and his mother). None of the Lance women, save Dinah, come close. In season one, I barely bought Laurel as a whip-smart, uber-dedicated lawyer. In season two, I REALLY don't buy Sara as an awesome MMA-level fighter. She just whispers in an eye-roll inducing lost baby voice. I miss the smart, kickbutt Black Canary from the comics who rescued Ollie more than vice versa.
Technically, Felicity would make a better Canary. In the comics, Black Canary's fighting partnership with Green Arrow always trumped all. The writers did an excellent job establishing Felicity and Oliver's friendship alongside Shado's mentorship of Ollie, Laurel and Ollie's childhood relationship and Ollie's interaction with the Huntress. Although Sara and Ollie don't share the same rich backstory outside of cheating-gate, for better or worse, writers will continue to push the canonical Lance-Ollie\Canary-Arrow relationship.
Why Won't Olicity Work?
Once I accepted that Olicity wouldn't happen in light of the continuing Canary-Arrow hook-up, I noticed other impediments to Olicity, including Ollie's slutdom, Ollie's relationship immaturity, and the Olicity friendship.
Ollie's a Slut
Just like Batman's the slut of the DC comic verse, Arrow's the slut of the DC TV world. Considering Batman hasn't settled down with anyone but teenaged boys in 75 years, we won't see Ollie date anyone but the warm body of the week.

Let's be honest, Ollie's a jerk (and a slut). He has an unhealthy relationship with women and there's no way he can date Felicity until he acknowledges it. He has a history of sleeping with his best friend's women (Shado & Slade, Laurel & Tommy) or telling women he loves them while cheating on them (Felicity, Laurel, Sara). Just like he didn't consider his multiple murders last year as killing, he's equally blind to his relationships with the opposite sex, while repeating detrimental patterns. He lives for the sexual moment without considering who he hurts. If he only sleeps with people he doesn't love, that means he believes the Black Canary, his former boss/colleague, Isabel, and the Huntress (three incredibly powerful women) are his personal sperm repositories. Um, that's sexist and not at all flattering.

Basically, he's a a slut and a jerk with creepy double standards. Even though he's a super hero, his pre-shipwreck dating habits haven't changed. Would you really want Felicity (who knows what she wants), to fall into that?
Ollie Doesn't Know What He Wants
Olicity won't happen because Ollie doesn't know what he wants. He pings from woman to woman to woman declaring intense emotional connections for each, while easily getting over her dead body to move onto the next.

Stating undying love for Laurel (while dating her sister)? Douchey. Re-declaring his love for Laurel while claiming he hadn't interacted with any woman on the island? Douchier. Telling Felicity he can't sleep with his friend, but sleeping with Sara? Douchiest. Telling Felicity to move on, but giving her grief over her COMATOSE boyfriend? A Masengil Moment. Thinking Sara died then sleeping with Shado? Suspect. Seeing Shado die and returning back to Sara? Majorly suspect. Encouraging his best friend to pursue Laurel then sleeping with her? A Justin Bieber move. Ignoring his best friend's overtly obvious crush on Shado, sleeping with Shado and then lying about her death? There are no words.

Until Oliver figures out emotional honesty and to think before his penis acts, he shouldn't date (or sleep with) anyone.
Felicity's Too Smart
Let's be honest, despite statements to the contrary, Ollie likes 'em dumb. Did anyone buy Katie Cassidy as an uber-intelligent lawyer? No. Does anyone believe in Caity Loitz's whispy lost girl bit and buy her fight scenes? No. Does anyone believe in Emily Rickards's uber-hacker performance, even when they tart her up in miniskirts sans glasses? Yes. Out of these three ladies, whose character has Ollie slept with (repeatedly)? I rest my case. If Emily Rickards becomes a worse actress they might have a chance. But, so far, Green Arrow hasn't made passes at hot characters with glasses.
There's No Heat
Ollie and Felicity have a great loving relationship, but there's no heat. Could you imagine Ollie and Felicity getting busy in the Arrow Cave? No. Of course not. They both respect Felicity too much. Felicity hated Ollie year one and grew to love him after watching him. But, Ollie lacks knowledge in maintaining a friendship with a woman without defining it sexually. He might think he loves her, but it's more as a friend. Why else would he avoid a sexual relationship? Let's be honest, Felicity is more vulnerable as his partner, than his love interest. Does that mean Team Olicity for the win? No. If Felicity's the ONLY woman Ollie controls himself around, maybe it isn't love, but sibling love.
Felicity's basically Oracle
If the CW's 'Arrow' is DC's version of comic Batman, then we'll never see Felicity and Ollie together. Outside 'Smallville' and in the comic world, did you ever see tech geek Oracle and suave bachelor Bruce Wayne get it on? No. Exactly.
Although 'Smallville' hooked Arrow up with the geek girl next door, I don't believe 'Arrow' will repeat that pattern. So, Olicity-shippers everywhere, give up. As long as Sara and Laurel remain, it just ain't happening.