5 New Mid-Season Television Shows To Check Out...Or Not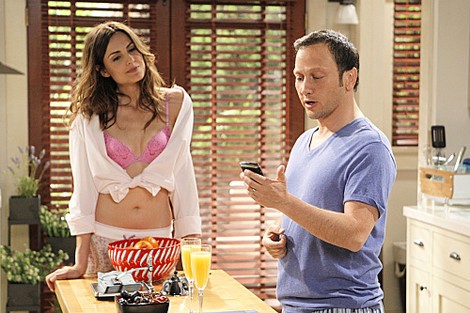 Rob (CBS)
I was thrilled to learn that Rob Schneider ("Jack and Jill," "SNL")—a hilarious comedian often relegated to third and fourth banana in Adam Sandler flicks—finally got his own sitcom.  In CBS' "Rob," Schneider plays an all-American white guy who marries a Mexican-American woman…and her extended family.  The premise sounds like it would be groundbreaking in 1984.  In 2012, I'm not sure how you can build an entire show on someone being uncomfortable around minorities unless it's about Ron Paul.  After viewing a few exclusive clips, I'm betting "Rob" won't make it until May Sweeps.  The jokes are flatter than leftover New Year's Eve champagne and borderline offensive—"I'm visiting from Mexico for the weekend. I'm not leaving…ever."  Ultimately, it's a mistake to shoehorn a wickedly eccentric oddball like Schneider into the straight-man role, yet I hope this comedy can grow from immigration and "Yo quiero Taco Bell" one-liners into more inventive, colorful humor.  Its survival more than likely depends on it.
Decide for yourself when "Rob" premieres on Jan. 12 at 8:30 p.m. on CBS.
If you're dying with curiosity, watch the trailer below.