5 Must-Watch Roles For 'Burn Notice' Fans
Sharon Gless: The State Within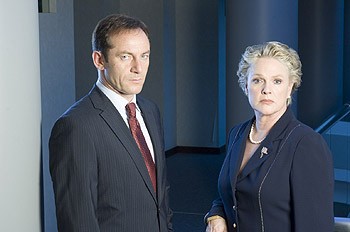 The obvious answer when it comes to Sharon Gless is to say Cagney & Lacey. Yet as much as I enjoyed that series, I'm more partial to her role as Lynne Warner in the Golden Globe-nominated BBC miniseries The State Within. It's a fantastic piece of work, nail-biting and heartwrenching, and Gless is a large part of why it's that good.
She plays Lynne Warner, the Secretary of Defense, and she is one tough lady. If you love Madeline Westen for how she doesn't take any lip from her son Michael, you'll like Lynne - and you may even be shocked by how much tougher she is. Whereas Madeline is someone you'd want to spend time with, there's not necessarily anything nice about Ms. Warner.
Gless more than holds her own with a pair of excellent leading men: Jason Isaacs (Awake, Brotherhood) and Ben Daniels (Law & Order: UK). If you've seen either of those gentlemen in other projects, you know they're both pretty intense actors, and Gless fits right in amongst them - even sometimes overshadowing them. And while Lynne is tough, she's not stereotypically so; she's got thoughts and feelings and seems like she really does belong in power.
The State Within is available on DVD.