5 Fun Facts: 'The Mortal Instruments' Star Lily Collins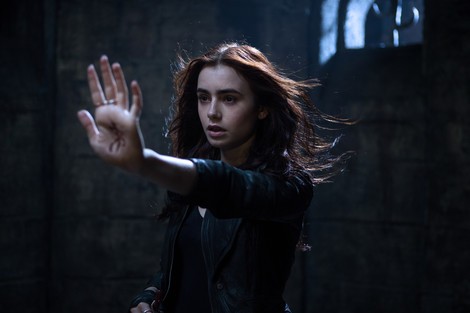 If you haven't been watching TV, you've probably missed the ample TV time dedicated to the "The Mortal Instruments: City of Bones" film trailer. But we can't blame the production company for throwing the trailer at us like a bunch of fast punches to the head. They must have known that the film would not do as well as the likes of "Twilight" so they tried to throw it in our faces hoping to annoy us all the way to "Can I get a ticket for the 6pm show to Mortal Instruments?."
The movie, semi-seemingly exciting with a bunch of no names or newbies, was recently released to some terrible reviews. But regardless, the movie has some substance. A. It is a film based on a novel. The fans are out there showing their support for character Clary Fray, a young teenager discovering heroic powers on her quest to find her mother. B. You can't miss the actor with that pretty face and thick eyebrows anywhere. Who does that face belong to? Miss Lily Collins.
Lily Collins has appeared in front of us quite a few times. You haven't heard the name? Remember that Julia Roberts flop "Mirror Mirror" from last year? Lily Collins had a lead in that as Snow White. But, even though her choice in film parts hasn't been in her favor, Lily Collins has a lot going for her. Here are a few facts that prove Lily has talent that will keep her around.
1. Lily's main focus was always journalism. She studied Broadcast Journalism at the University of Southern California and has written for publications such as Elle Girl, Seventeen, and Teen Vogue.
2. As a reporter, Lily covered the 2008 US Presidential campaign for a Nickelodeon show.
3. Many fashion experts have praised Lily for her taste in clothing and she hardly gets a bad review. That sense in fashion must have blossomed from her past modeling gigs. (Anyone remember her small snippet on The Hills as a socialite and debutante? She did look quite gorgeous.)
4. What a voice she has been gifted from her father and Genesis front man Phil Collins. If you're curious to know if she is as good as her pops, YouTube 'I Believe (In Love)' from "Mirror Mirror."
5. In an interview with Seventeen, Lily says she has "realized the quirky things that make you different, are what make you beautiful." What a sweet gal. That kind of character in an actor always proves to keep them in the business.