5 Fun Facts About 'The Hobbit's' Martin Freeman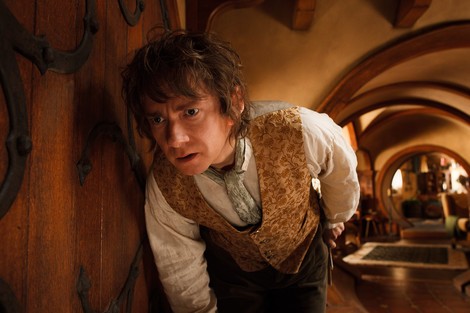 We know you can hardly wait for the arrival of "The Hobbit: An Unexpected Journey." To keep you from going mad with anticipation, we want to help quench your thirst for news of Middle Earth with a few fun facts about leading man Martin Freeman. Check out these tasty morsels while you wait for the film to hit theaters.
Before He Was Bilbo He Was Buck Naked
Some fans may not remember the skintastic turn Freeman took in the modern holiday classic, "Love Actually." In the serendipitous rom-com, Freeman played John, a movie stand-in whose current gig was for what seemed to be a pretty explicit skin flick. We got to see the future Hobbit bare it all and simulate some not-so-innocent shenanigans with his on-screen love interest.
He's Only Two Degrees From Kevin Bacon
Thanks to his "Love Actually" exposure, Freeman finds himself closer than most to the not-so-elusive Kevin Bacon. He shared the screen with fellow Brit Collin Firth who was in "Where the Truth Lies" with Bacon. But he's even closer to another "Love Actually" co-star: Bill Nighy. Freeman and Nighy have worked on no less than five projects together including "Shaun of the Dead," "Hot Fuzz" and "The Hitchhiker's Guide to the Galaxy."
It's Elementary
Freeman stole the hearts of hard-core fans of another literary classic in "Sherlock" before taking on the beloved role of Bilbo Baggins. He currently plays a modern Dr. Watson to Benedict Cumberbatch's obsessive Sherlock Holmes, the third season of which is rumored to be postponed until 2014. Hopefully fans will take the time to visit Middle Earth while waiting for the PBS hit to return.
Don't Put Him Behind the Wheel
The 41-year-old father of two may be able to hold his own with Ricky Gervais in the British "The Office," but don't ask him for a lift. Freeman doesn't drive. He told "Reader's Digest," I've never taken a lesson. There are better things to spend money on." Apparently at least one of those "better things" is cabs and/or a driver.
He Likes To Drop the F-Bomb
In the latest "Entertainment Weekly" cover story, Freeman talks about his transformation into a Baggins of Bag End. While he offers plenty of insight into the making of "The Hobbit," his prolific use of the F-word was judiciously utilized in quotes throughout the article no fewer than three times.
Check out Freeman in "The Hobbit," which hits theaters on December 14.