5 Fun Facts About 'Stand Up Guys' Star Christopher Walken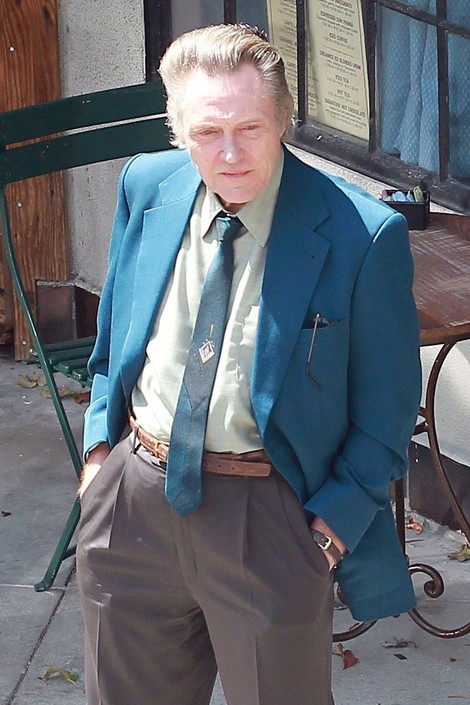 Christopher Walken's trademark looks, too-cool demeanor and sly eyes make him the ideal mobster. And if nothing else, his gangbuster performance in the upcoming movie "Stand Up Guys" demonstrates it too.
Walken plays Doc, an aging mobster that reunites with long lost comrades Val (Al Pacino) and Hirsch (Alan Arkin). The veteran gangster trio reminisce about their glory days and discover they still have what it takes to stir up trouble. But unbeknownst to Val, Doc's under contract to kill him, adding an unexpected twist to the action-packed comedic plot.
We've enjoyed Walken's attention-grabbing talent for years; from his dramatic part in "The Deer Hunter" to his comedic role as seven time host of "Saturday Night Live." Check out these five fun facts about this Academy Award winning actor.
1. His Role as a Husband
Christopher Walken and Georgianne Thon (currently a casting director) tied the knot in 1969. The couple met in 1963 while on the set of "West Side Story" (she played his girlfriend). Four decades later, the couple still takes pleasure in one another's company, which may be in part because they don't run with the Hollywood crowd. Instead, they enjoy a quiet house in Connecticut and an apartment in New York City. The low-profile couple never had children and they are dedicated to their careers, which are both in the entertainment industry.
2. A Wizard in the Kitchen
Walken starred in a cooking show for Funny Or Die, called "Cooking with Walken." The short video is shot in the kitchen of his Connecticut home, and follows the actor as he cooks a turkey with help from two tall models, a little dog that looks like Toto and actor Richard Belzer. The shoot isn't serious, in fact it's quite funny, but there's no doubting that this man knows what he's doing in the kitchen.
3. Traveling Lion Tamer in the Circus
Walken is a multifaceted man with a thrilling history. At 16, he worked for a traveling one-ring circus. According to "The Washington Post," Walken wore a red and blue lion tamer's outfit and carried a whip.  Walken said, "There was this very old lioness named Sheba, and she was completely very friendly, like a dog. I had a whip and a hat, and I'd go into the cage and Sheba would jump up on this box and I'd wave the whip at her, and she'd get up and go, 'Whraaah!' Everybody would applaud and that was it."
4. Check Out that Fancy Footwork
After attending the Professional Children's School in Manhattan and being trained as a professional dancer, Walken headed for the Great White Way. Walken starred in musicals during the '60s and '70s and landed lead roles in several Shakespeare plays. As we know, Walken eventually moved on to movies but he never lost his passion for fancy footwork. His performance in Fatboy Slim's "Weapon of Choice" music video illustrates his love and talent for dancing.
5. Proud to be a First-Generation American
Born to a Scottish mother and German father, Christopher Walken (given name: Ronald Walken) is a first generation American. His father was a baker and Christopher enjoyed a "working class" childhood. He was brought up in Queens, New York and had two brothers, both of whom were also involved in acting. His mother, Rosalie, and actor Jerry Lewis influenced Walken's decision to go into show business, and after a brief enrollment in Hofstra University, he followed his dream.
Will you see "Stand Up Guys" when it hits theaters Friday, February 1?
*Did you like this article? Make sure to check out more from Lisa Forester next week.