5 Fun Facts About 'Playing For Keeps' Star Gerard Butler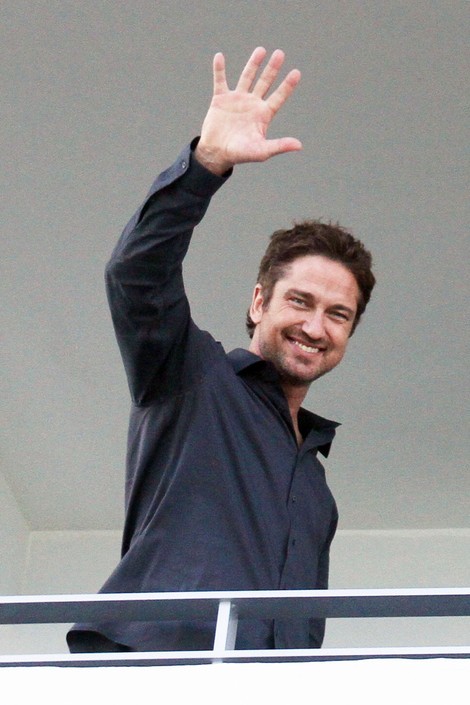 With "Playing for Keeps" ready to hit theaters on December 7, we thought it would be a great time to bask in the sexy glow of Scottish star Gerard Butler. The tasty actor plays a former soccer star who's seen better days and ends up coaching a kid's soccer team in an effort to improve relations with his son. Jessica Biel, Catherine Zeta-Jones and Uma Thurman also star, but we're all about Mr. Butler – and here's five fun reasons why.
1) George Clooney Better Watch Out. Gerard might just give George some competition atop Hollywood's most eligible long-term bachelor list. The hunky Scotsman has yet to be hitched – or even engaged! It looks like George isn't the only former "Sexiest Man Alive" to leave the ladies clamoring for more and hoping that they might be the lucky one who can finally get him to put a ring on it.
2) Just Call Him Gerry. Mr. Butler is pretty easygoing about most things, but he's deadly serious when it comes to properly pronouncing his first name. So many people mistakenly pronounce it "ger-ARD," rather than the correct "ger-ERD." In order to save himself the aggravation, the actor has adopted the practice of asking all interviewers to call him Gerry.
3) He Likes to Rock. There's a reason that Andrew Lloyd Webber said that Gerard had the rock-and-roll voice he's always longed to hear in the laments of his tragic Phantom. Gerry was in a rock band in college and is rumored to be working on an album under the actor/rock star tutelage of Johnny Depp, Jack Black and Marilyn Manson.
4) Don't Ask Him to Do the Dishes. The hottie got a little cheeky talking about going home for the holidays, "I go home and they'll cook Christmas ­dinner, and she's like, 'C'mon, give a hand, come on, wash the dishes or put the dishes away.' And I'm like, 'Mom, I am a major Hollywood movie star, I can't be doing this. It's embarrassing.'" Looks like it's time for him to either roll up those sleeves or at least hire mom some help!
5) He's All Wet. The gorgeous Gerard seems to have a love-hate relationship with water. In 1997, while filming his first feature role in "Mrs. Brown," he heard cries for help while on a picnic with his mum and ended up jumping in a river to save a young boy who was drowning. Previously, on the first day of shooting for the same film, Butler had to run buck-naked into a freezing sea and developed a nice case of hypothermia. And just last year the actor was rescued after a surfing accident while filming the recently-released "Chasing Mavericks."
What other fun things do you know about Gerard?
Make sure to check back for next week's 5 Fun Facts.