4 Things We Learned From 4 Seasons Of 'Nikita'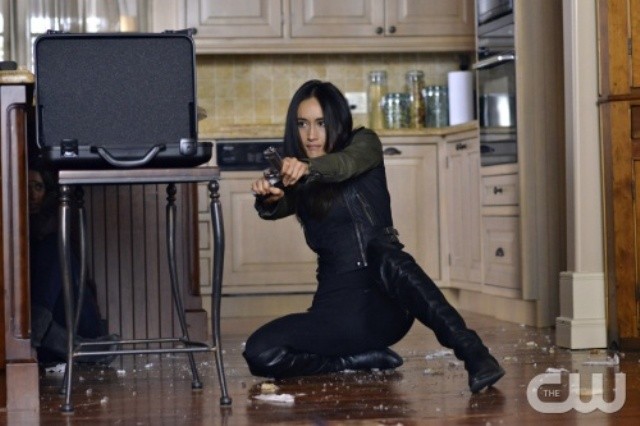 Tonight, The CW's Nikita will sign off for good, and that makes us a little sad. Having covered this series from beginning to end, we've gotten to see it go from 'remake we're not so sure about' to 'that sleeper show more people should be watching.' And we've learned a few things, too. Here are our four takeaways from the four seasons of Nikita - feel free to leave yours in the comments as we prepare to say goodbye.
1) Remakes don't always have to be mistakes: Granted, there have been many which were short-lived or outright bad (see: NBC's Knight Rider and Bionic Woman, ABC's Charlie's Angels). So you can understand why we cringed when a new Nikita was announced three years ago. And it took us a little while to jump on board. But by the end of season one, this incarnation carved out its own distinct tone and identity separate from its USA predecessor, while still giving more than a few respectful nods to the loyal fans of the original recipe. If you're going to remake a show, that's the way to do it.
2) Maggie Q deserves to be a household name: The leading lady of Nikita was hardly an unknown when she signed on (hey, we still remember when she was in Gen-Y Cops with Paul Rudd), but a regular TV role put her on the map for a lot of folks, and deservedly so. In a world where being an action star doesn't always mean capable acting, Maggie didn't just bring the physical prowess to be believable as a government-trained assassin, but she also imbued Nikita with a real warmth that made us care about her journey. Even when the writing wasn't at its best, her portrayal kept us watching. Hopefully, we'll see her in even bigger roles in the future.
3) Shane West can be an action hero: He wasn't who we expected to play Michael, but in retrospect, he turned out to be Nikita's most underrated player. Watching Michael transition from Division's top lieutenant to its second-biggest threat was one of the best parts of season one, because of how Shane played him in such a way that we were privy to everything he was thinking and feeling, even if it was just through an expression or an inflection. He's also proven that he's capable of holding his own in the show's high-intensity action scenes, even when they call for him to lose a limb (that has to stop happening). We're certainly looking at Shane differently after Nikita, and we hope the Hollywood community is, too. He deserves his own show STAT - or at least a guest appearance on Justified.
4) The O.C. will never, ever be the same again: Not after Melinda Clarke left her imprint as the villainous Amanda. She's so good at being bad that it's easy to understand why her character has stuck around way longer than she logically should have. In fact, Nikita has done an outstanding job when it comes to casting the opposition. Xander Berkeley was deliciously evil as original bad guy Percy, we're still upset over the demise of Peter Outerbridge's Ari Tasarov even though he was in league with Amanda, and who could forget Rob Stewart as the always-creepy Roan? You can even throw in Devon Sawa going to the dark side as Sam Matthews. Of course these folks aren't terrorists and killers in real life (they're actually all very nice), but they've done a great job of convincing us that they are.
The Nikita series finale, "Canceled," airs tonight at 9 PM ET/PT on The CW.
(c)2013 Brittany Frederick. Appears at Starpulse with permission. All rights reserved. No reproduction permitted. Visit my official website and follow me on Twitter at @tvbrittanyf.